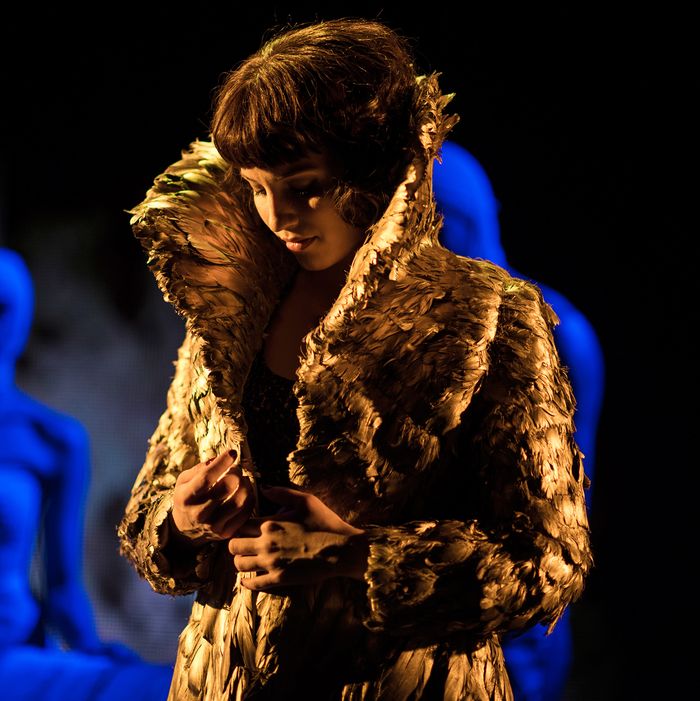 Dianna Agron as Dahlia in McQueen.
Photo: Specular
For Londoners, 2015 has so far been a year filled with Alexander McQueen. The arrival of the "Savage Beauty" show has triggered so many homages to the designer that it's been hard to follow them all. There have been multiple books, events, photography exhibitions — and finally, just as we're approaching saturation point, there is a brand-new play.
McQueen, which had its official opening in London last night, is an original stage production by James Phillips, inspired by the fall-winter 2008 collection the Girl Who Lived in the Tree. On the day of that show in 2008, McQueen told journalists, "I've got a 600-year-old elm tree in my garden, and I made up this story of a girl who lives in it and comes out of the darkness to meet a prince and become a queen."
This — or at least the first part of it — inspires the plot of the play, a kind of dark, semi-fictional fairy tale that tries to capture McQueen (played eerily well by Stephen Wight) during a bout of depression. It's set a year after Isabella Blow's suicide and two years before his own, and we see him stalking around his home late at night, surrounded by mannequins, ominously holding his belt in one hand. He is interrupted by a young woman who comes down from his elm tree and breaks into the house — she is Dahlia, played by Dianna Agron, and the pair end up spending a night in London together.
The production is unaffiliated with the fashion house, but it was made with the support of McQueen's family, and Phillips has obviously paid painstaking attention to the facts of the designer's life. All the music used in the production is from his shows, from Frankie Goes to Hollywood's Relax to Björk's An Echo, a Stain. The costumes aren't genuine McQueen, but they've been "interpreted" by production designer David Farley — the armadillo shoes make an appearance ("Something I'm working on," says McQueen), as does the gold, feathered coat from his final fall-winter 2010 collection. There are careful references to the people who surrounded him — Philip Treacy keeps calling to check on his health, and Kate Moss is the friend who McQueen speculates "takes it up the arse." Throughout the night, the late Isabella Blow — played perfectly by British actress Tracy-Ann Oberman — hovers in the background, haunting McQueen silently. (Blow's husband, Detmar Blow, apparently attended a preview this week and said how much he liked her portrayal.)
Together, McQueen and Dahlia travel through all the sources of dark and light in McQueen's life — from the tailor where he trained on Savile Row, to a gay club where he loses himself in dancing and cocaine, to his mother's house. A highlight of the production is Wight's heartfelt portrayal of McQueen, complete with his brutally blunt cockney humor, his emotional rawness, and his melancholy struggles with his own talent. The most moving scene is a confrontation between the designer and Isabella Blow's ghost, who reproaches him, "When you left for Givenchy, I had nothing at all."
"I haven't been feeling good," he tells her. "I'm in the dark woods. I'm lost."
At its core, the play seems like an attempt to explain McQueen's suicide. When he talks about his mother, who ended up dying just nine days before he killed himself, he says, "I love her so much, it's like rage. It makes me afraid."
Maybe a work like this — that looks so intimately into the designer's psyche and puts words into his mouth — should have been left a few years until his death didn't feel quite so recent. But I can see why McQueen's family is happy with it. Unlike all those exhibitions and books, this play feels like it gives us access to Lee himself — and the wicked laugh, impulsive anger, and sensitive soul that went with him.