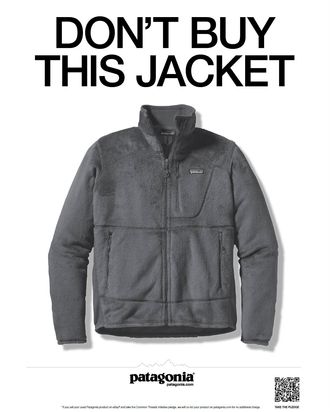 A 2011 Patagonia ad with the tagline "Don't Buy This Jacket," which warned of the potential wastefulness of buying the brand's R2 fleece, or any other garment, helped contribute to significant sales growth the following year. (Evidently, plenty of people bought that jacket.)
This is an emblematic approach for the 42-year-old company, and today The New Yorker did a deep dive into its so-called "anti-growth strategy." Rather than rely on a barely dressed Kendall Jenner to draw attention to its wares, the company does things like post essays about the deleterious effects of climate change on its website. And for the environmentally conscious customers that Patagonia aims to attract, that game plan is working, resulting in double-digit growth for the outdoorsy label. In the past four years, Patagonia has opened 40 stores, and has introduced a sustainable-foods business, Patagonia Provisions, that sells things like Alaskan salmon and energy bars. The brand just concluded a cross-country tour in a camper nicknamed Delia, collecting people's used Patagonia items for recycling, and repairing those that needed a little TLC.
Of course, Patagonia's customer base includes plenty of people with the means to patronize luxury brands, and it charges prices to match — a fact that has earned it the hilarious portmanteau Patagucci. In addition to achieving a sort of anti-luxury-as-luxury cachet (see also: Birkenstock and the forever-edging-toward-fashionable Teva), Patagonia has pursued a cause marketing strategy that runs parallel to that of socially conscious brands like TOMS and Warby Parker. And if it helps boost sales along the way? They don't see that as a contradiction, says Rick Ridgeway, the company's VP of environmental affairs. (Yes, it has one.) "There is a point out there where our own growth is going to likely create more problems than it does solutions," he admitted. "But … we're continuing to produce products that allow people to live a more responsible life with the apparel that they choose," whether that's sustainably caught fish or a cushy fleece.