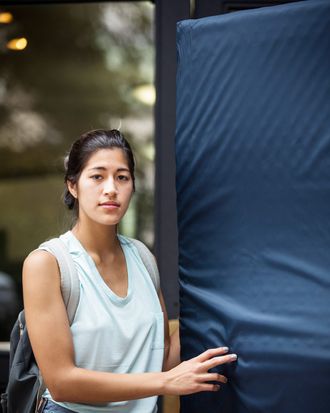 Photo: Andrew Burton/Getty Images
Morningside Heights has been covered in posters targeting Columbia student Emma Sulkowicz, one of the most well-known activists in the fight to end campus rape, calling her a "pretty little liar." The posters accuse Sulkowicz of perpetuating a "#rapehoax" just a day after she carried her iconic mattress across the stage at a graduation event.
A new Twitter account, @FakeRape, has also sprung up to spread images of the posters across the web. They also appear to have printed posters calling Lena Dunham a liar.
Students have begun sweeping the campus to take down the posters, which — of course — has sparked cries of "But my free speech!!!"
Sulkowicz reported she was raped to the university, but Columbia cleared her alleged perpetrator, Paul Nungesser, of all charges. Nungesser has steadfastly maintained his innocence throughout her public mattress project.