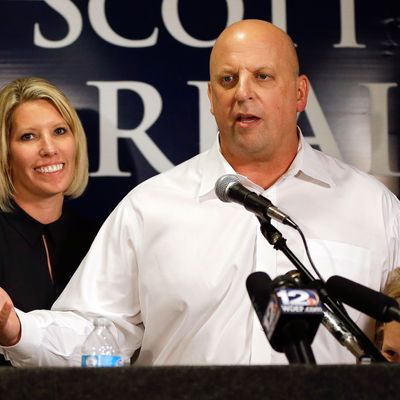 Scott DesJarlais and his wife at the Tennessee Primary in 2014.
Photo: Mark Humphrey/AP/Corbis
Tennessee representative Scott DesJarlais opposes abortion, has run repeatedly as a pro-life candidate, and routinely votes in favor of restricting reproductive rights. It sounds pretty typical for a Southern conservative: DesJarlais just doesn't believe anyone should get an abortion. Except for his wife and mistress.
In 2012, a tape surfaced of a conversation DesJarlais had recorded between himself and his mistress back in 2000. Then a doctor, DesJarlais was trying to reconcile with his estranged wife and, in the process, pressuring the unnamed woman (also a patient of his!) to get an abortion. The scandal coincided with DesJarlais's reelection campaign. When he finally commented, he insisted that his mistress wasn't actually pregnant when he recorded himself pressuring her to get an abortion. "I don't mind telling people that there was no pregnancy, and no abortion," he said.
A divorce trial transcript from 2001 demonstrated that DesJarlais had also supported his ex-wife's decision to get two abortions before their marriage. He called the first a "therapeutic" abortion because she was on Lupron at the time, which can cause birth defects and retardation. Of the second abortion, he said the couple were struggling ("Things were not going well between us") and that the abortion was a "mutual decision."
The contradictions between his personal views on abortion and his public stance drew renewed attention last week, when he voted in favor of the 20-week abortion ban. But DesJarlais's behavior is indicative of a larger contradiction between pro-lifers' professed views and their personal behavior. ThinkProgress points to a statistically supported dynamic in which people who identify as pro-life frequently find themselves choosing abortion when confronted with reproductive decisions in their own lives.
Beyond personal anecdotes, this tendency has also been reflected repeatedly in polls, wherein people who identify as pro-life support abortion when it's discussed as an individual decision rather than an abstract judgment between right and wrong. It's a phenomenon best summed up by one subject Jon Pennington interviewed when working on his Ph.D. on the pro-life movement: a woman who said, "Most pro-life women oppose abortion with four exceptions: rape, incest, the life of the mother, and me."