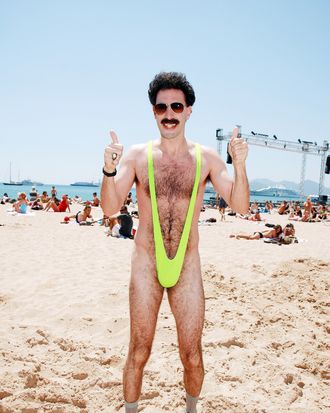 Sacha Baron Cohen in Borat.
Photo: 20th Century Fox/Courtesy Everett Collection
Officials in a British resort town that banned mankinis say the crackdown has been the solution to all of their civic woes. The Cornish town of Newquay took a hard line on the one-pieces back in 2009, after residents protested the party town's excessive public disorder. Six years later, The Guardian reports that, in the absence of reprehensible bathing attire, the formerly debaucherous destination has transformed into a haven for bachelorette parties and family vacations.
The town credits its drop in crime and thriving tourism industry to its robust counterattack on the twin evils of excessive drinking and inappropriate attire. "I remember back in the 2000s you couldn't walk the streets on a Saturday without seeing someone wearing a mankini or what have you. But now they're not allowed in Newquay. The police will tell them to go home and get changed if they see them wearing one," said Mayor Dave Sleeman. "I think we have turned the corner here."