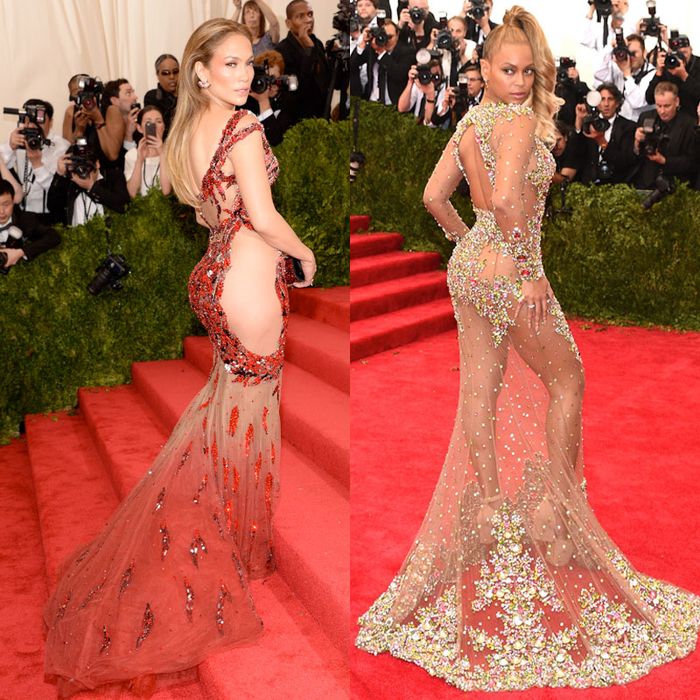 Jennifer Lopez, Beyonce, and Kim Kardashian at the 2015 Met Gala.
Photo: Getty Images
When Beyoncé, Kim Kardashian, and J.Lo took to the Met Gala red carpet last night for what's colloquially known as the Oscars of Fashion, let's just say no one was talking about their gowns. (They were, respectively, by Givenchy, Roberto Cavalli, and Versace.) When Rihanna accepted her Fashion Icon honors at the CFDA Awards last year, the fact that her dress was by the talented young designer Adam Selman was remarked upon by hard-core fashion people — everyone else was riveted by That. Body. Marilyn Monroe's notorious "Happy Birthday, Mr. President" dress, to which that Rihanna look drew many a comparison, looks like a Venetian-blind-obscured window compared to Rihanna's all-access pass. And her devil-may-care attitude on the red carpet only accentuated the daring of the look. On the red carpet she teased E! News: "Do my tits bother you? They're covered in Swarovski crystals!" Her body confidence was infectious.
There's nothing new under the sun, and people have been pulling from the well-thumbed sexy-dress playbook for centuries, but skin-baring on the red carpet is now dominating even supposedly fashion-focused events like the Met Gala or the CFDA Awards. We've officially entered a realm that you might call post-fashion. The body is the new outfit. The gym is the new atelier. Curves and indentations that were once sculpted by corsetry, boning, panniers, strategic padding, or even, more recently, Spanx are now squarely in evidence. Where celebrities once relied on the darting hands of petits mains fitting them, designers' clever tricks of tailoring, stylists' concerted applications of double-stick tape, they now turn to personal trainers (and maybe, in some cases, plastic surgeons) to design their bodies. And they're, in some sense, wearing their bodies just as much as they are wearing fashion. The next-day headlines reflected this: "Beyoncé Is Pretty Much Naked and About to Crush the Entire 2015 Met Gala: Check Out Her Dazzling Look Front and Back!" panted E! Meanwhile Kim Instagrammed a photo of hers and avowed "idol" J.Lo's shared assets.
The rise of athleisure — with everyone running around in fitted Lycra casings that may not be high-design but give you an exact sense of what they're working with — has permeated eveningwear as well. Of course, bodies have always been subject to trends — look at the waifish '90s, or the hard-bodied Fonda '80s. But the ideal body type right now is a particularly tricky feat of engineering — simultaneously curvy and toned, voluptuous and meager — the Protestant work ethic writ onto flesh. Effortless is no longer the goal — now, a body has to look like the product of work. When a celebrity leaves the house, she is always, in tabloid parlance, flaunting her post-baby body, showing off her hard-won abs, or declaring her previously absent corporeal form to be "back." (Where was it hiding?) Where we once piled ourselves with gems, we now tote equally fetishized green juice. High-end workout leggings, meant to be worn outside the gym, can run you almost as much as a special-occasion dress.

Is this good or bad for fashion? Designers will never be superfluous — as much as celebrity attire increasingly teeters on the brink of almost-naked, no one is going to show up totally naked. (Well, maybe at the VMAs.) But now designers have to work harder to stand out. Niceties of silhouette, print, and embellishments — unless they're doing their part to obscure body parts — get less attention. And designers no longer dictate hemlines or create an overarching New Look. When Kim bared all for her notorious Paper cover, one fashion publicist I know lamented, "What about the credits?" — meaning the opportunity that one of her clients might adorn Kim's frame. "She's wearing gloves," I weakly pointed out.
This emphasis on the body is just as undemocratic as the emphasis on fashion. Regular people can't afford red-carpet gowns, but the cost of a red-carpet body is almost more prohibitive, between the trainers, nutritionists, diets, and assorted tweaking involved. Clothing used to be the ultimate status symbol, conveying class and cultural currency — now, it's almost superfluous compared to the infrastructure underneath. Designers like Balmain's Olivier Rouseteing and Givenchy's Riccardo Tisci cater to their toned and voluptuous clientele with increasingly body-con looks, while Donatella Versace has been working this angle to perfection for decades. But while dressing a celebrity, especially for a beamed-around-the-world event like the Met Ball, remains an indisputable win for a designer, this trend does raise the question of whether designers are being recognized for their handiwork or merely their adjacency to celebrity flesh.