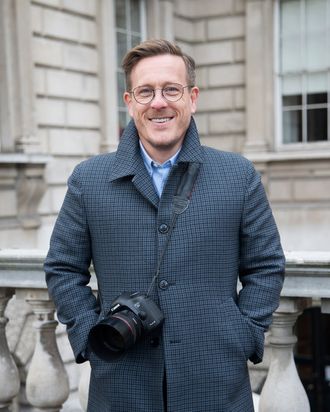 Scott Schuman.
Photo: Kirstin Sinclair/Getty Images
Street-style peacocks of the world's fashion capitals, you've been usurped by baked goods. Scott Schuman — Sartorialist, man-about-globe, and noted Tavi detractor — has turned to lifestyle blogging in the form of photos of croissants and lattes. We were alerted to this by Condé Nast Traveler's Instagram, which highlighted Schuman's series of photos of his favorite cafés and their wares.
So far, he's shot a cup from the Caffè Mangini in Genoa ("I don't know how I let this cup get away" during a previous trip, he noted), one from the Venetian Caffè Florian ("This cup just seems so regal and Venice is just such an incredible city. It would have been fascinating to live there in the 18th or 19th century"), and even our humble hometown Think Coffee ("Love the considered and conscious flow of the print wallpaper against the very unpredictable nature/natural of the marble"). Marble patterns, vintage-y wallpaper, latte foam — is it just us, or is the Sartorialist skewing kind of basic?