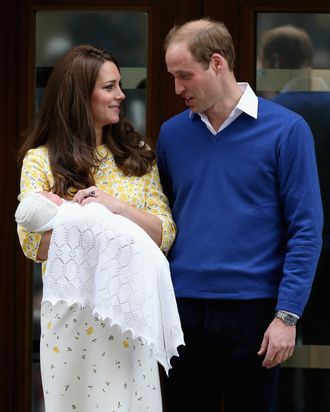 That's right, everyone: Kate Middleton has given birth. Sure, it's not as exciting as the first time she did it, but it's still worth a mention.
Here's what we know so far: Prince George's new sibling is an eight-pound, three-ounce girl(!), and her royal life began at 8:34 on Saturday morning. Like her brother, she was born in the Lindo Wing of St. Mary's Hospital in London. Prince William, who briefly left the hospital shortly after the birth to pick up George, assured the hordes gathered outside that he and his wife are "very happy." (Kensington Palace echoed that sentiment with a statement reading, "The Queen, the Duke of Edinburgh, the Prince of Wales, the Duchess of Cornwall, Prince Harry and members of both families have been informed and are delighted with the news.") Will, Kate, and their daughter exited St. Mary's together just after 6 p.m. local time.
The Palace has yet to reveal the name of the new princess, who is now fourth in line to the throne, but we're sure they'll get around to it at some point.