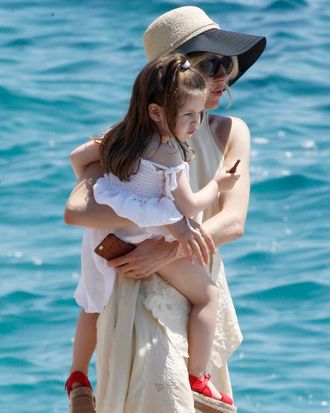 Sienna Miller with her daughter during the Cannes Film Festival 2015.
Photo: Robino Salvatore/Getty Images
Female empowerment comes in many forms, and one of those forms this week in Cannes has been Sienna Miller in a bikini. Really! The actress is here in the South of France to opine about film as an honored member of the Cannes Film Festival Jury (presided over this year by Joel and Ethan Coen). She's dutifully watching two movies a day, going to jury meetings, dressing in fabulous gowns to be photographed at premieres, and spending all her spare time with her daughter, Marlowe, which demands much building of sand castles.
"It's a hard life," Miller said, laughing, on Tuesday night, outside of a fabulous hillside villa where she joined Rachel Weisz, Isabelle Huppert, Emily Blunt, and Mélanie Laurent as one of the women in film being honored by IFP (Independent Filmmaker Project) and Calvin Klein.
Who's to say that says working motherhood has to involve toil and suffering, or that having it all (yes, terrible phrase) can't come on the French Riviera with a glass of Champagne in hand? Miller's work this week — and it is work — is watching the best of cinema "before anyone else and then discussing it with the Coen brothers," she said. (She also said she's become a third member of Jake Gyllenhaal and Guillermo del Toro's budding best friendship.) "I don't know what happened for me to become this lucky, but I am finding it very enriching."
It's also a job that allows her to bring her daughter with her — she's able to enjoy Marlowe's discovery of the beach. "She's at that age where the fact that she can chase the sea and then it comes back at her is like the most exciting thing in the world," said Miller.
And you know what else is part of her job at Cannes? Talking about women's equality while looking fierce in a backless dress. "I'm actually increasingly aware of the lack of equality in our industry and all over the world in every industry and almost every walk of life, but I do feel like the last year has been very important for women," she said. "The conversation is happening on a much larger scale and on a world stage, and I feel like it's time to make a stand in terms of equal pay and all of that. And whether it's the #HeForShe campaign or, in America, potentially a female president, things are moving the right way!"
Then she smiled charmingly and walked into the hilltop villa to watch a private acoustic concert by Haim next to an infinity pool while the lights of Cannes glittered below. Not bad for a day's work.