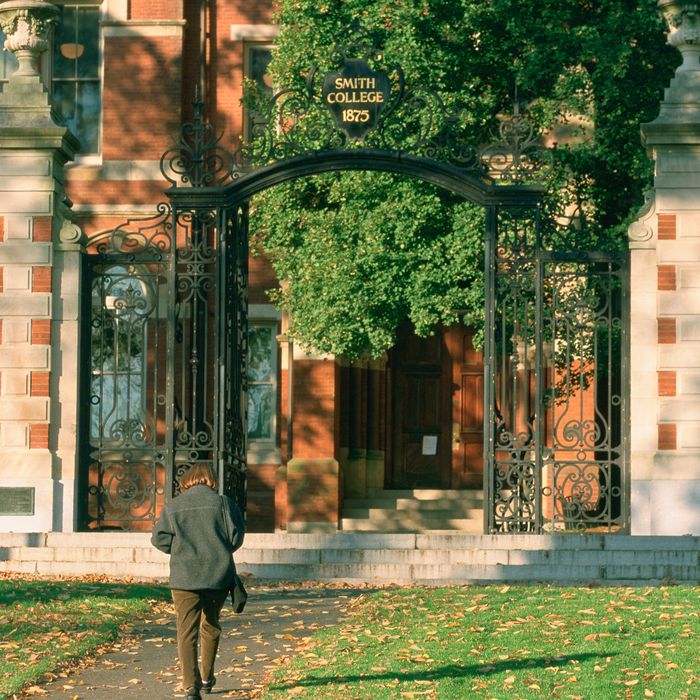 Smith College.
Photo: James Marshall/Corbis
Smith College announced on Saturday that, starting this fall, the school will accept applications from transgender women. Previously, the historically all-women's college — the largest of the Seven Sister schools — has admitted only applicants who have identified as female since birth.
In a statement on the college's website, Smith president Kathleen McCartney and board chair Elizabeth Mugar Eveillard explained that "concepts of female identity have evolved" since the school's founding in 1871. "The board's decision affirms Smith's unwavering mission and identity as a women's college, our commitment to representing the diversity of women's lived experiences, and the college's exceptional role in the advancement of women worldwide," they wrote. Smith's announcement follows decisions by Wellesley, Bryn Mawr, Mount Holyoke, Mills, and Simmons college to admit some trans applicants.
The policy change follows the school's 2013 decision not to admit Calliope Wong, a trans woman who was denied admission from Smith because a federal financial aid form indicated she was male. In an FAQ released with the announcement, Smith clarified that it still considers itself a women's college, and, as such, will only accept applications from students who self-identify as female — meaning trans men and students with non-binary gender identities are not eligible for admission.