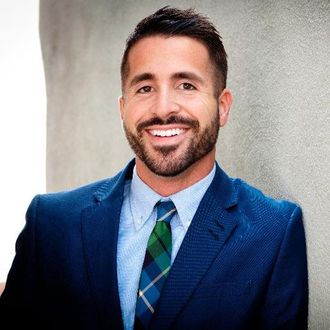 Late last night Michael LaCour, the grad student at the center of the scandal over faked data in a Science study about attitudes toward gay marriage, posted the response he had been promising ever since David Broockman and Joshua Kalla, two grad students in political science at UC-Berkeley, and Peter Aronow, a political scientist at Yale, released their explosive report two weeks ago documenting "irregularities" in LaCour's paper. (Following the publication of their report, Donald Green, a political scientist at Columbia and co-author on the paper, sent Science a request that it be retracted, and this week Science agreed to do so, albeit without LaCour's consent.)
LaCour's response is a 23-page PDF that purports to rebut, or at least call into question, the claims made by Broockman, Kalla, and Aronow. It doesn't really come close to doing so, and one example neatly highlights its deficiencies.
Those who read the Broockman report, or the detailed Science of Us tick-tock of Broockman's work published yesterday, will recall that Broockman and Kalla discovered that the survey company LaCour claimed to have used, uSamp, said it had never worked with him. Moreover, the employee at uSamp LaCour said he had worked with doesn't exist. 
Broockman and Kalla found this out because back on May 15 they were at Broockman's apartment in San Francisco, trying to understand why the response rates they were achieving for a survey they were running were significantly lower than LaCour's, despite the fact that the survey setup and incentives for participants were similar (Aronow was brought onboard later). LaCour was out of town and busy, and in past communication with Broockman on this issue he had only provided vague information, so Broockman got the name of the uSamp employee LaCour said he had worked with and reached out to uSamp directly — the idea being that if anyone would be able to explain the discrepancy in response rates (other than LaCour himself), it was that employee. That led to the realization that "Jason Peterson" didn't exist, and a series of dominoes fell from there.  
With that backstory in mind, here's part of the abstract of LaCour's response:
I argue that Broockman et al.'s failure to replicate LaCour and Green (2014) is likely the result of a failure to follow the respondent-driven sampling procedure in LaCour and Green (2014). However, the failure of Broockman et al. to describe the sampling procedure utilized in their "replication efforts" makes it impossible to evaluate the study's scientific merit and thus has no bearing on LaCour and Green (2014).
The problem is that LaCour is answering a question no one asked. This isn't about whether or not Broockman and Kalla ran their survey the right way. Let's assume for a moment, purely hypothetically, they didn't. That wouldn't change the fact that they reached out to uSamp and uSamp told them it had never worked with LaCour. And this, of course, is one of the biggest of many charges leveled against LaCour — that he fabricated a relationship with the survey company he apparently used to collect his data (and, as shown in an email we published yesterday, LaCour appears to have faked at least one email from the nonexistent Peterson).
And yet LaCour doesn't address this in his response. The name "uSamp" is absent from his document, and there is (perhaps unsurprisingly) no attempt to explain Peterson (LaCour didn't respond to a request to comment for this post). Instead, the reader is invited to hear LaCour's side of a non sequitur debate in which he is the only participant.
Update, 2:35 p.m.: In the original version of this post, I mixed up LaCour and Broockman's names and duplicated a quote from Broockman's document. Both errors have been fixed.