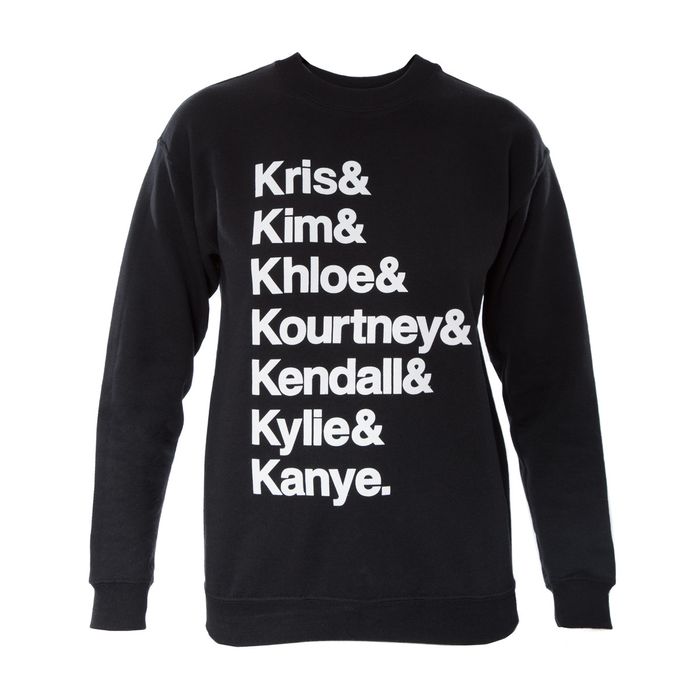 Photo: Courtesy of DASH Boutique
There are times in history when you find a product so inevitable, so breathtakingly obvious, that it induces a cry of "Wait, that's never been done before?" from all those who see it. Today, we experienced this very phenomenon profoundly in the form of the great "John & Paul & Ringo & George" genre of Helvetica/ampersand lists.
Made by Brian Lichtenberg (the company made famous by graphics that subvert brands like Hermès into Homiés), the sweatshirt riffs on Kanye's verse in that classic love song "I Won" and immortalizes the holy … not a trinity, but the sept known as the Kardashians (plus Kanye). Alas, poor Rob does not have a K name, and so he was booted from the lineup, as was Lord Disick. Were Kim still married to Kris Humphries, he might have made the team, but Kim has since moved on to Kanye and as such, the Humph will need to find another way to cling to relevancy. Keeping up with the alliteration scheme really does seem to have been Mama Kris's most prescient work as a momager to date.
This garment is now for sale in three color schemes at Dash's new e-commerce site, just in case you would like to let the world at large know that yes, you do keep up with the Kardashians better than you keep up with your own life. Because why wouldn't you?