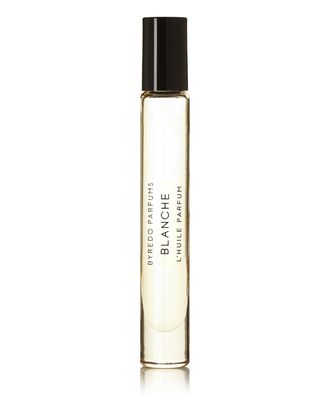 Meet the perfect complement to your summery white jeans and sneakers: Byredo's roll-on oil in Blanche (French for white, you'll note). It's an extension of the Byredo Blanche family, which already includes an eau de parfum, body set, and a hair perfume. Like the previous iterations of the scent, Blanche is aggressively fresh, and doesn't include spicy, warm, or fruity notes — it smells like something of a mix between cotton and blond wood; a classic fragrance that nods to Estée Lauder's White Linen, but lighter. The absence of a hefty note construction makes it crisp and nearly transparent. A lightweight oil, it doesn't feel greasy, and it dries quickly after it goes on skin. I keep the small vial nearby for touch-ups throughout the day — it's like a
Tic Tac for my skin — not minty, but clean and refreshing.
Byredo Roll-On Oil in Blanche, $78 at Net-a-Porter.