Tink on Being a Feminist Rapper and Working With Timbaland
<span>She says that without Nicki Minaj, "I probably wouldn&rsquo;t have thought to rap myself.&rdquo;</span>

The new female musicians to see this summer.
Tink on Being a Feminist Rapper and Working With Timbaland
Photographs by Shae Detar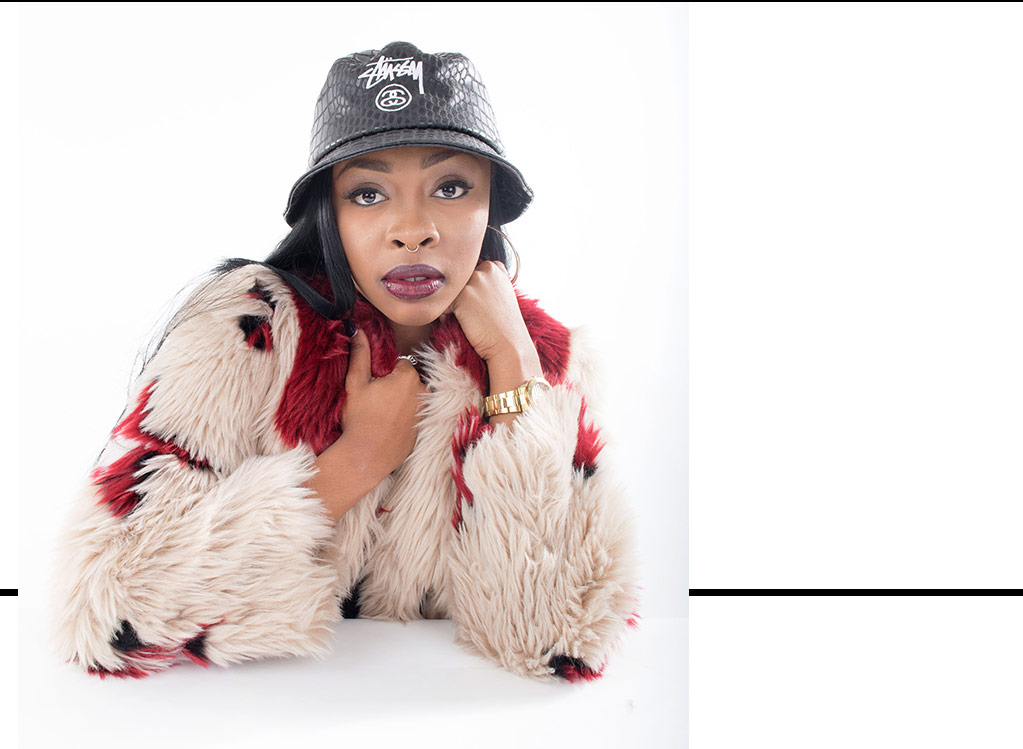 Name: Tink
Real Name: Trinity Home
Age: 19
Single to Hear: "Ratchet Commandments"
Video to Watch: "Treat Me Like Somebody"
Where You'll See Her This Summer: NXNE Festival in Toronto (June 17 and 18)
Hometown: Chicago, Illinois
Twitter: @official_tink
Instagram: @official__tink
At this year's SXSW Festival, Timbaland gave 19-year-old Tink quite an introduction: He told the audience that the late Aaliyah appeared to him in a dream and told him that Tink was "the one." But don't write her off as just another overhyped protégé — the independent-minded rapper/singer has been honing her voice since long before Tim stepped into the picture. As prolific as she is precocious, Chicago-based Tink had released five self-recorded mixtapes by the time she was out of high school, including the head-turning Winter's Diary 1 & 2. Standout tracks like the candid ballad "Treat Me Like Somebody" and "Room 302" (a collaboration with DJ collective Future Brown) showcase her unique songwriting voice — sharp and assertive, but never afraid to wear her heart on her sleeve. Tink is currently splitting her time between Chicago and Miami, where she and Timbaland are finishing up her forthcoming debut album; it doesn't have a release date yet, but she promises it's more than half done. 
You're working on your debut album right now. Is the sound much different from what we've heard from you on your mixtapes?
The message is still the same. I can never change that up. But the production and the overall sound, that's very well put together now. Working with Timbaland, you know it's not gonna sound like anything else out there today. The sound is very next-level.
How was your recording process different when you were making mixtapes?
Before I was working with Timbaland, I was basically producing myself. I would have to email and tweet producers, like, "Could you please send me some beats? I'm in the studio." Or sometimes I'd even get on YouTube and find some basic instrumentals to work with. But working with Timbaland is the total opposite. He's helped out a whole lot.
What's it like working with him?
A general night in the studio is like, we go in the lab, and then before we even hear anything we have a conversation. We're just like family — we can talk for hours. After we get comfortable, Tim will play some beats, and when I hear something I want to rap to, I run with it. I go into the lab by myself, and I put my spin on it, and then we go back in the lab together. We just go back and forth, like ping-pong.
When you were recording your own stuff, you were constantly putting out new music to your followers on social media. Is it a challenge not to be able to share this album immediately with your fans?
That's hard for me. I had to really buckle down on that. Last year, when we first started working on the album, I didn't really understand. Because I was independent for such a long time, and I was always just feeding my fans — every month, I'd be giving them something new. So I had to adjust to the process of making a record. And after signing with a label, there are just certain things you can't do anymore. It was frustrating at first, but as the months went by I got used to it.
Is there any kind of music that you think people would be surprised to know you're a fan of?
I like country music. Sometimes I'll just type in "country" on Pandora and listen. I really like the passion in the lyrics. You really get an image in your mind with some of the lyrics. Country singers put a lot of soul into their songs, and I enjoy that.
You've said that Nicki Minaj was a big inspiration when you first started rapping. What was it about her that connected with you?
I think it was the simple fact that we didn't have any females at the time! When Nicki was putting out mixtapes, she was the only female rapper that had any kind of buzz. And not to mention that she was on the track with the guys, you know? So you had the girls playing it, and you had the hood guys playing it, too, so you couldn't run away from Nicki. She was everywhere. And it was inspiring. I'll be honest with you, before I heard Nicki rapping, I probably wouldn't have thought to rap myself. Just to see a female doing it and being in there with the guys, it was motivation.
You call yourself a feminist. Do you think the music industry is becoming more accepting of young female artists using that word?
Definitely. From my point of view, I think before the last three or five years, people didn't really understand what feminism was about. Just because male domination was still so strong. It was abnormal for us females to be treated like we were equal. So this generation, the times we're in right now, you're seeing a lot of feminists just rising up. People are actually starting to hear us for what we're worth and treat us as equals. Females — we go just as hard as the guys, if not harder. You know what I mean? There's a female running for president. Something's in the water right now.
(Hilfiger Collection, star faux-fur jacket $550, at Tommy Hilfiger, 681 Fifth Ave., 212-223-1824; tommy.com. Stussy hat, $25, at Stussy.com. Artist's own watch and jewelry. Photographs by Shae Detar, styling by Amanda Lee Shirreffs, makeup by Faith Bartruff.)