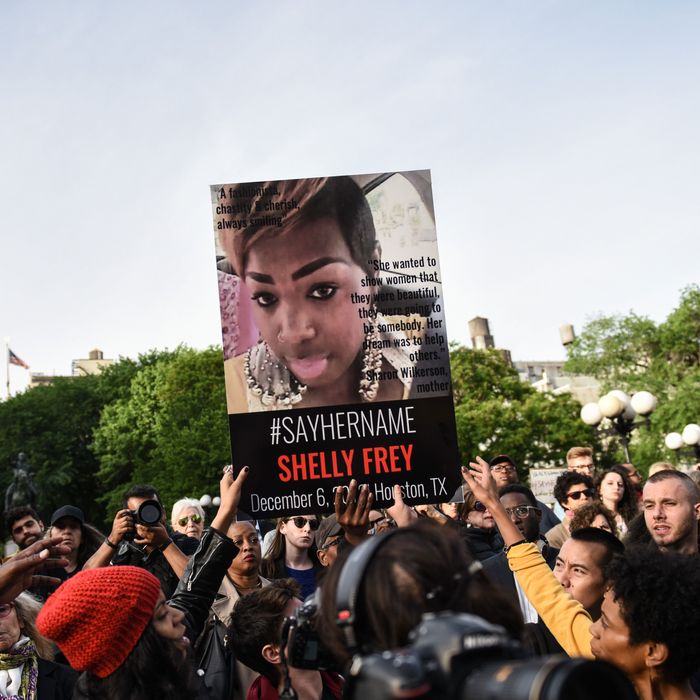 Protesters at a #SayHerName rally at Union Square on Wednesday, May 20.
Photo: Andy Katz/© Corbis. All Rights Reserved.
Topless protesters blocked traffic in downtown San Francisco yesterday morning as part of a national action to draw attention to the black women and girls who have been victims of police brutality. Nearly 300 protesters gathered, carrying signs that read #SayHerName, referring to the title of a report released Wednesday by the African American Policy Forum highlighting the violence black women face at the hands of the police.
"Although black women are routinely killed, raped, and beaten by the police, their experiences are rarely foregrounded in popular understandings of police brutality," said Kimberlé Williams Crenshaw, co-author of the report, which details the experiences of black women who have faced gender-specific violence and been killed by the police.
Similar demonstrations took place yesterday in at least 17 cities, including Chicago, St. Louis, Washington, D.C., and New Orleans — though the action in San Francisco, organized by the BlackOUT Collective, was the only location where protesters went topless. "We wanted to be able to say 'enough is enough' and draw on traditions from Nigeria, Gabon, and South Africa, from women who bare their chests and other parts of their bodies in protest," Chinyere Tutashinda, a founding member of the BlackOUT Collective, told BuzzFeed News.
Protesters carried signs with the names and pictures of female victims of police brutality, including Aiyana Stanley-Jones, Rekia Boyd, and Yuvette Henderson. "We wanted to kick off the day, give [commuters] a dose of black women's liberation with their morning coffee," said Rose Berry, who works at a San Francisco chapter of Black Youth Project 100. "We won't be ignored anymore. We're not invisible. We've never been invisible."