Vivienne Westwood Will Be a Punk Forever
Photo: Tim Whitby/Getty Images
To watch Vivienne Westwood, wearing five-inch platform boots, attempt to navigate a gravelly Savannah street while the city participates in a curious athletic event known as a "color run," is to contract a serious case of vertigo-by-proxy. Luckily, the designer is used to it. Nimble as a mountain goat, she ambles along as 20-somethings, fueled by equal parts Gatorade and EDM, dash by us, dousing each other with brightly colored powder.
Westwood, who is here to accept the André Leon Talley Lifetime Achievement Award from SCAD and to celebrate a new exhibition of her work at the SCAD Museum, isn't one for blending into her surroundings, as her attire — a rose-colored toga worn over a proudly visible black bra, armbands emblazoned with phrases like "Climate Revolution," and oversize buttons bearing political slogans — makes clear. She refuses to be put into the various boxes to which she's been assigned: punk preserved in amber, design legend, feminist heroine, stately grand dame. Her days of designing with safety pins and dog collars are long gone, but her attitude — rebellious, activist, uncompromising — firmly establishes her as a lifelong punk. And even though she's here to accept a lifetime achievement award, her past is the last thing she wants to talk about: She's far more concerned with potentially condensing her four fashion lines into two, in her ongoing fight against overconsumption.

When, as part of a panel Talley and I moderated after the award ceremony, I ask her about the obstacles she faced starting out — she comes from a working-class background, had zero connections to the industry, and didn't start her career until her 30s — Westwood claims to not have given it much thought. Despite being one of the most prominent women to helm a fashion business, she rejects the "feminist" label. And when I point out that she's the rare independent designer in a landscape where talent is owned by conglomerates, she reflexively rejects it, saying, "In the beginning, I wanted backing, but I could never find it. I was a bit too far ahead; the things I said didn't suit people. I remember going for an interview once and telling this man — it was [at] Dior, I think — I explained how I design things on this little doll and he was horrified." While remaining independent may not have been her initial goal, it has given her the gift of total control over her business. "It's great that you never have businessmen telling you what to do," she concedes. "I do really pity someone like John Galliano who must've had a lot of stress because there must've been an awful lot of pressure on him as to what sold. You have the fantasy, and then you sell something else."
That fantasy is undiluted in "Dress Up Story — 1990 Until Now," the exhibition of her last 25 years of design, curated by Talley. The show, which officially opens to the public this week and runs through September 13, is a fantastical examination of Westwood's world, shown in a variety of tableaux that mingle her designs with art and interior decor. Old World portraits from the school's collection are closely packed, frame abutting frame, on the walls. (Talley told me that the approach was inspired by the way owners of British estates display their artworks, in what he calls a "gluttonous potpourri" of paintings.) There are mannequins positioned around the exhibition wearing towering wigs, slashes of lipstick, and in some cases dog collars; they swing from chandeliers, cavort on a state bed ornamented with plumes, and gather around a fireplace. "Think Vita Sackville-West meets Isabella Blow," Talley says. The show conveys that balance of aristocracy and eccentricity, where whips and spikes meet crinolines and corsets and eras from Regency to Edwardiana are referenced and riffed on. (Westwood encourages design students to copy the Old Masters as a way to learn.) Overall, the feeling is one of decadence. "Vivienne's clothes are happy clothes, like that song by Pharrell. The emotion is joy, abundance, excess, throw-away, nonchalance, divine," says Talley. "I want [people] to take away that these are glamorous clothes, that these are not clothes that come out of a costume book, although they're inspired by history. You can wear anything in the exhibit today … This is modernity at its highest moment coming from the mind of a great, great visionary."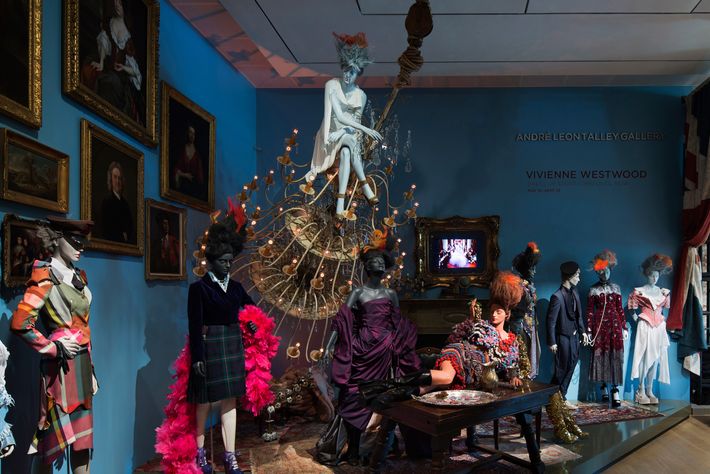 Westwood knows as much about art history as some scholars in the field. When she sees me one morning wearing a dress from her Anglomania line that features an abstract print of clocks and sunbursts, she immediately tells me that the inspiration for the print came from a Frans Hals painting, The Laughing Cavalier. She's also a partisan of Gainsborough, Boucher, and Boulle. If that seems uncharacteristic of the woman labeled the Godmother of Punk, perhaps that's because, as any good punk knows, in order to overthrow tradition, you first have to know it cold. But she demurs when asked about her grasp of previous eras' costumes, chalking it up to her British heritage. "I think it's to do with English tailoring; I think there's something in your bones. Nobody gets that English tailoring look, not even the French — they do something else I expect, something more genius or inventive."
When you spend enough time with the designer, you begin to realize that she doesn't talk about the topics most fashion people inevitably default to: who's up, who's down, who looks good, who's been hired and fired. In fact, she professes that she hasn't watched television since 9/11 and doesn't follow the fashion news cycle. When asked if there are young designers she admires, she turns to her husband, Andreas Kronthaler, and says, "we have one boy that we think is good, don't we?" (That would be J.W. Anderson.) Rather than talk about Kimye, she'd like to discuss Julian Assange, or the hazards of fracking, or her disappointment with the U.K.'s latest election. Injustice of any kind rankles her — learning about the crucifixion as a child galvanized her understanding of the suffering that exists in the world. Even infinitesimal things — like whether the napkins we're using are paper or linen, or turning off the lights when she leaves a room — bedevil her. She's in the somewhat paradoxical position of advocating for people to buy less, even while she regularly puts out collections, but she insists that "buy less, buy better quality" is the watchword. (During our panel, she said that she is trying to reduce the size of her company with an eye toward making fewer profits, an unexpected proposition in an industry of endless corporatization.) That said, she is expanding in the geographical sense: Later this year, she will open her first store in New York.
Given her wealth of opinions, it's surprising that on the subject of her designs, Westwood tends to self-deprecate; she defers often to Kronthaler, who is closely involved in the design side of the line, when asked aesthetic questions. She remembers a recent collection where he got the idea of designing a gown with a train as long as the catwalk. "I'm a woman; I'm too practical. I never thought of doing a dress with a train so long as that," she says quietly. "I've always said it's wonderful to work with a man. If you look at the great couturiers, if you look at Dior, it's different than looking at Schiaparelli, clever as she is, because [male designers] put women on a pedestal all the time, and I just think that's absolutely great the way they do that."
The concept of a "role model," something we cling to in America but that is less of a sacred cow in the U.K., is something Westwood rejects outright. That defiance of our expectations for a 74-year-old certified dame is the ultimate continuation of her punk ethos. As she put it during the panel, "I don't pretend fashion is some holy thing."