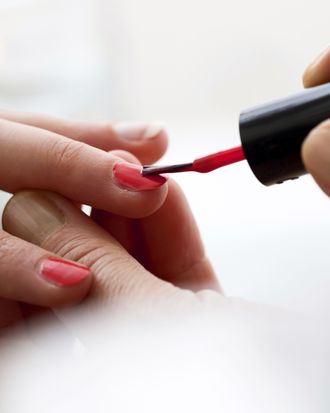 Photo: Thomas_EyeDesign/(c) Thomas_EyeDesign
Two weeks after the New York Times published its investigation into the widespread exploitation New York City nail-salon workers, hundreds of volunteers assembled across the city this morning to educate manicurists about their rights. Organized by the de Blasio administration, city officials and volunteers gathered at nearly 100 subway stations and transit hubs throughout the five boroughs, distributing fliers with information about wages, sick leave, and safety precautions in seven different languages. Later in the morning, teams of city employees visited nail salons in 70 city neighborhoods.
Today's effort comes in the wake of Governor Andrew Cuomo's emergency crackdown on nail salons, which requires that salons post workers' rights clearly in six different languages and institute new safety measures, including gloves and face masks for all manicurists.
Julie Menin, commissioner of the city's Consumer Affairs Department, said she could not remember a time when the city undertook a door-to-door outreach campaign of this magnitude. Unfortunately, as the Times noted earlier this week, wage abuse, exploitation, and dangerous working conditions remain systemic problems in many other industries, too.