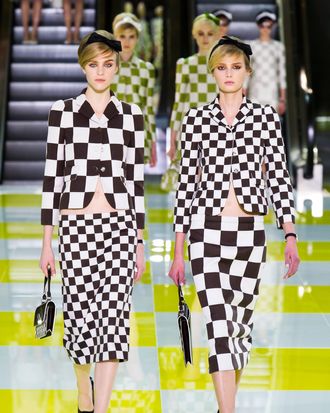 Louis Vuitton doesn't have a monopoly on the checkerboard pattern, according to a new ruling by the E.U. General Court. After registering a trademark for its brown Damier check in 1998 and a subsequent one for a black-and-white version of the pattern a decade later, a 2011 decision overturned the luxury giant's right to exclusively use both variations of the pattern. Now, WWD reports that the brand's attempts to reverse that decision have foundered in court yet again.
The court, based in Luxembourg, asserted in its decision that "the checkerboard pattern, as represented in the contested trademark, was a basic and banal feature composed of very simple elements." (Add insult to injury, why don't you?) Since it is lacking any other distinguishing features, like a monogram, the court added, the pattern cannot be considered proprietary to Vuitton.
The Damier check pattern has appeared on many of the brand's bags and luggage, including the popular Speedy and Duomo styles, and even served as the inspiration for its spring 2013 show. It remains to be seen whether the company will file an appeal following the ruling.