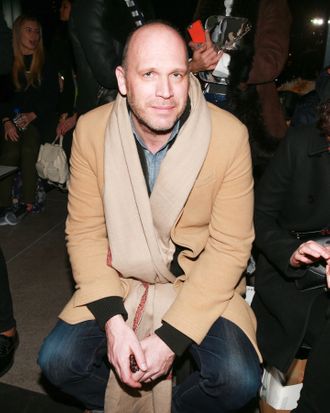 Dirk Standen.
Photo: Ben Rosser/BFAnyc.com
Last month, it was announced that Style.com would be dismantled into an e-commerce site (and its editorial content swallowed by a new destination called VogueRunway.com). Almost immediately, Condé Nast started laying off staff. But it was unclear what would happen to Dirk Standen, the site's editor-in-chief, who has been at Condé Nast since 2003.
Today, Standen has been named the digital creative director at W, The Daily Front Row reports, where he will work closely with Stefano Tonchi and oversee digital strategy, starting now.

Standen told The Daily in a statement: "I'm looking forward to collaborating with some of the best talent in the industry to expand W's digital mission … If you look at what W does so well in print — discovering what's next, putting society under a spotlight, producing bold, provocative images, and exploring the connection between fashion, film, and art — you see that it's uniquely positioned to thrive in every corner of the online space."
Hiring Standen — someone who truly understands the web and is uniquely positioned to help the magazine make more of an impact online — is a smart move for W and a message from Condé Nast: What happens online matters.