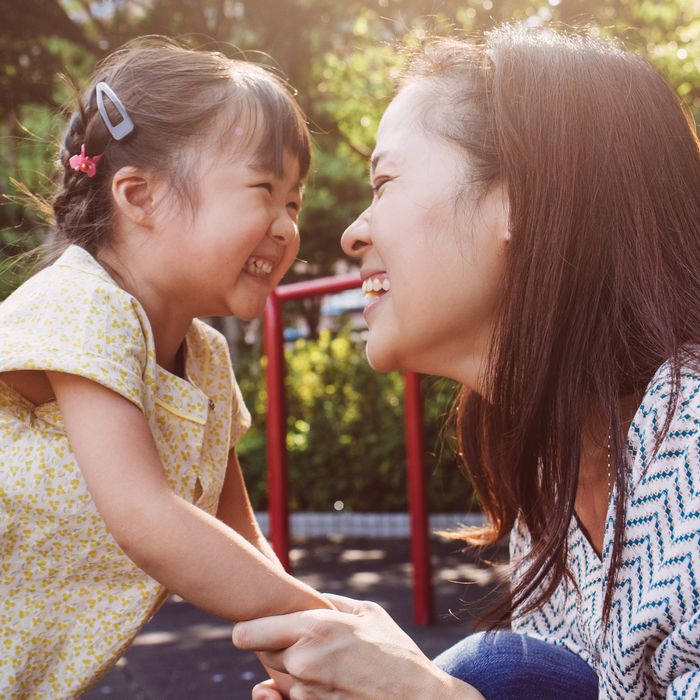 Photo: Tang Ming Tung/Getty Images
Two weeks after our first child was born, my husband returned to work leaving me marooned with a tiny, mewling creature. I sulked with the baby on the steps of the Brooklyn Museum and watched as two African-American women in yoga pants and stylish summer scarves strode past pushing strollers similar to mine. Probably going to meet the other new mothers, I thought, at some hip new-mother club to which I hadn't been invited.
The solitary confinement of new motherhood was not to my style. My childless friends couldn't imagine the emotional havoc brought on by hormonal imbalance, breast-feeding, stalled ambition, clueless spouses, sleeplessness, sexlessness. And then another mother appeared in front of the museum. Her child, older than mine, was taken by the fountain's musical leap and splash. I half-smiled and she appeared at my side. Here's an approximate transcript of our first meeting:
"Hi. I have a baby."
"Hey. I have a baby, too."
"Wow. Can we be friends?"
"Yeah. Best friends."
And so, Linh and I became best mommy-friends.
Come fall, we picnicked in Prospect Park and walked in the Botanic Garden, Linh's brisk step always just ahead of mine. We took the girls to Underhill Playground and the zoo, hung out at each other's apartments, and lunched at Teddy's diner on Washington Avenue. Our initial conversations were mostly about the wallop of motherhood, but our friendship beyond child-rearing was cemented during one conversation in the museum cafeteria. "How much sex," I wanted to know, "are you and your husband having?" After that, we could talk about anything.
It turned out that Linh and I had been living almost parallel lives. We were the same age. She was an American Studies professor who wrote; I was a writer who taught composition. I was a Caribbean immigrant and she had been born in Vietnam. We were both in interracial relationships and our husbands, too, were similar enough, a film critic (hers) and an illustrator (mine). As a foursome armed for brunch on Saturday mornings, we were fearless in the face of the childless hipster hordes.
Linh and her husband had accomplished the Brooklyn life I considered my goal, but while their pursuits seemed mature and grounded, our situation felt precarious and impermanent. She was almost tenured at her Ivy League university and her husband was a columnist at a respected New York publication. I was either going to finish my Ph.D., go back to my community-college lectureship, attack that novel, or apply to M.F.A. programs. My husband was working production at a women's magazine, but only until his illustration took off. We rented and they owned. I admired her manicured toes and her simple, asymmetrically cut clothes. I wasn't jealous of the proverbial Joneses because I loved the Joneses too much, but theirs was the Brooklyn where I wanted to live.
My husband worried over how much I admired Linh, but he didn't quite understand. American culture was not native to me. I didn't tread with the intrepid sure-footedness of one to any manor born. My mother had been a Caribbean housewife who hadn't opted out but rather had had no other options. I left the island on my own at 16. For as long as I'd lived in the States, I'd looked for the right cues. Linh seemed to do everything right.
Then our paths shifted even more. My family moved briefly to the Caribbean; I became pregnant with the second child we'd wanted and found a literary agent, but under it all my relationship started to crack. Linh and I sent stayed in touch through sporadic emails filled with the sunnier details of our lives. She'd taken a new position and moved her family from Brooklyn to the West Village.
They were only in Manhattan, but we saw less of Linh and her husband after we came home. The following summer, they invited us to their villa swap in Aix-en-Provence but with a toddler, a new baby, and a novel to deliver we couldn't possibly accept their offer. I envied their jaunt to the South of France. Europe, I thought, was the right sort experience. The next year when an old friend invited us to Oñati and Collioure, I jumped at the chance to take the children to Spain and France. I felt a shocking satisfaction watching my son's steps strengthen at the Bilbao Guggenheim and my daughter frolic on pebbly Mediterranean beaches. Yes, I thought, now we are living. But for most of the trip my husband and I were at war, hoping our hosts couldn't hear our hissed fights or notice we never held hands or kissed.
I hadn't seen Linh in months when we met at Jane on Houston Street for a quiet, midweek lunch. She looked impeccable as ever — my beautiful friend. I tried to talk about pleasant things, about my novel and our children, her forthcoming tenure and new book, but of course we talked about my tumultuous marriage.
Linh set down her spoon. "You guys are going to figure it out."
I told her I wasn't so sure.
She shrugged. "Michael's gone."
"Where?" I was curious to know.
"We separated," she said.
I was stunned. That picture so perfect on the outside had come completely and permanently undone. How startled I was to realize her husband had felt trapped by the domesticity of our play, the ceaseless round of birthday parties, playdates, and brunches. He wanted to be out the world. But even in failure, I thought, Linh acted incisively and ended her floundering marriage. They had already secured a negotiator to figure out their finances and make the custody arrangements. I told her she was very brave.
"Uh-uh," Linh said, "breaking up is not brave." She had tried mightily to save her marriage, she said. They'd had couples therapy, gone on date nights, considered a second child. "Brave," she said, "is staying and working it out, because who's always happy?"
Imagining Linh's divorce as another of her confident moves was simplistic and selfish, I realized. She was devastated. And I'd allowed myself to see her as a symbol, a collection of material cues for the person I longed to be. I had thought at the beginning of our friendship we could talk about anything, but had I been a good listener? The breezy Brooklyn sophisticate I saw had been my own invention — in fact, she didn't even live in Brooklyn anymore.
Eighteen months later, I danced with my daughter at Linh's second wedding. I reveled in her joy, but also marveled at the haste of her do-over and the projected perfection of her second try. My husband couldn't bring himself to attend. From the day we met I'd wanted to mimic her sure steps to some mythical place of social arrival. Now, though, I felt no envy — just hope that Linh had found a partner willing to work on being happy.