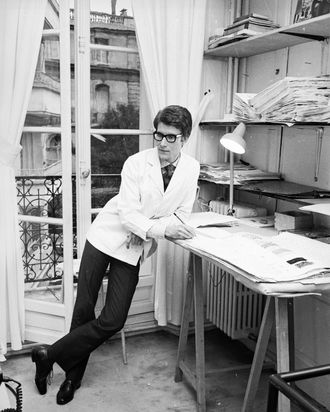 Yves Saint Laurent.
Photo: Reg Lancaster/Getty Images
Kate Betts served as the fashion news director of Vogue from 1991 to 1999, and went on to become the editor-in-chief of Harper's Bazaar. (She was the youngest EIC to take over a national magazine at the time, in 1999.) Her new memoir, My Paris Dream: An Education in Style, Slang, and Seduction in the Great City on the Seine, out this week, recounts her time as a young fashion journalist in the city, where she befriended everyone from Karl Lagerfeld and John Galliano. In this excerpt from the book, Betts recalls her first encounter with Yves Saint Laurent, which took place while she was working at Women's Wear Daily under the legendary editor John Fairchild.
Opening the door to Saint Laurent's long, narrow, all-white studio was like walking in on someone in their bedroom during an intimate moment. We were disrupting a certain creative intimacy.
At the far end of the studio, Saint Laurent's small tribe was gathered like a coven around his modest desk. A wall of mirrors behind them cre­ated the optical effect of infinite rows of the long black granite-topped cutting tables that lined the room, elongating the distance between us. In single file, we followed the press attaché past these tables piled high with long bolts of magnificent silks from Lyon, guipure lace from Saint Gall, and rich gold-thread-flecked jacquards from the renowned Swiss fabric mill Abraham. Trays of gaudy gold and glass paste costume jewelry were scattered across the desks like anthropological treasures. A stray steamer leaned against a wall of shelves filled with but­tons, zippers, hook and eyes, ribbons, and random sewing essentials—what the French call the manutention: an archive of the extras that are used to sew hundreds of couture out­fits.
Anne-Marie Muñoz, Saint Laurent's assistant who had worked with him since his days at Dior, was hunkered down over a desk. She looked straight out of a Goya paint­ing, with her jet-black hair, deep-brown lipstick, and sad eyes rimmed in kohl. She was talking to Loulou de la Falaise, the eccentric accessories designer and muse, who was perched on the corner of her desk, gesticulating, a cigarette dangling between her fingers, decadently sprinkling chunks of ash on the white carpet below, more Toulouse-Lautrec than Goya.
It was Loulou who caught my eye first, with her perfect crop of tousled reddish hair floating above her sharp, square jaw. Her piercing blue eyes danced with trouble, and her deep, gravelly voice was rich with cigarettes and experience. Decked out in an emerald-green peasant blouse with a cascade of amber beads falling to her waist, she exuded every ounce of the self-possession we clumsy Americans lacked.
Saint Laurent's business partner, Pierre Bergé, popped up to greet us, slapping Mr. Fairchild on the back and barely nodding to the rest of us. Bergé was the shark-eyed Napoléon, the quintessential French patri­arch, ignoring women when more-powerful men were present. Ever since Saint Laurent opened his couture house in 1962, Bergé had worked tirelessly to craft and manipulate the couturier's image. It was a lifelong task, which continued up to that very minute as Bergé answered Mr. Fairchild's questions about the business, the sales figures, and, of course, sotto voce, the couturier's health.
Paris was buzzing with stories of Saint Laurent's breakdowns, drug overdoses, and hospitalizations. He shattered his wrist while punching a wall. He fell down in his Marrakech villa. He checked into the Ameri­can Hospital to detox. The rumors came around every few months like clockwork: Saint Laurent was drunk or drugged; Saint Laurent was in a mental asylum; Saint Laurent was dying. In the Paris bureau of Fairchild Publications, keeping track of every blip on Saint Laurent's proverbial cardiogram was a full-time job. Even those of us who didn't cover fash­ion lived in fear that something would happen to the king of fashion on a Sunday, when Dennis and the rest of us were off pillaging the flea market or, worse, sound asleep.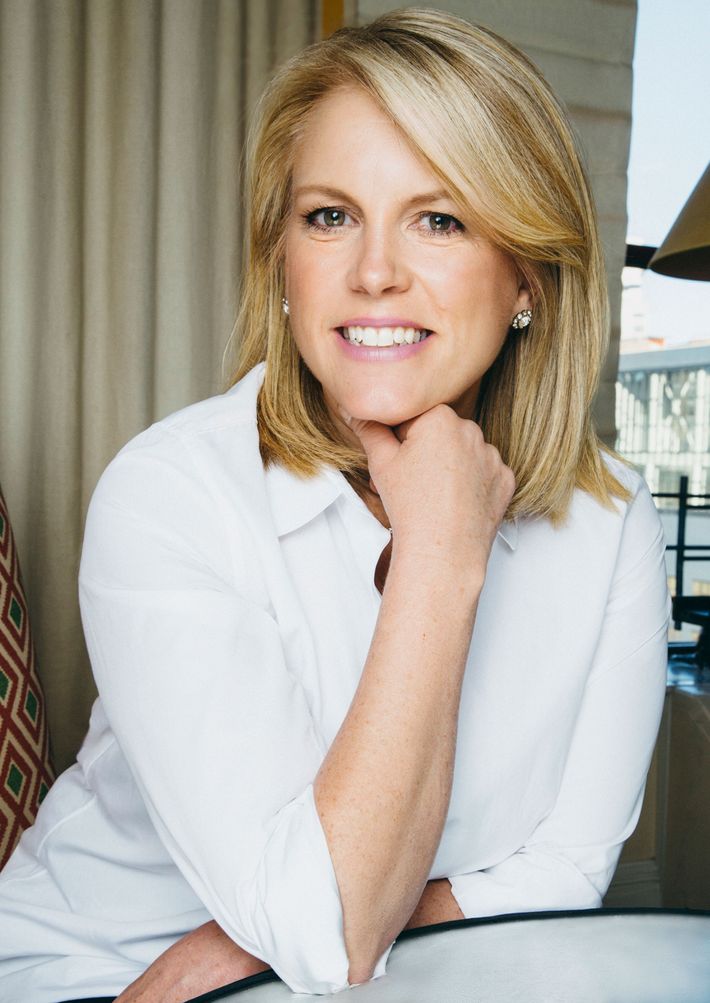 Getting scooped on Saint Laurent's news by The New York Times or the Herald Tribune was not an option. Mr. Fairchild had a special relation­ship with the couturier, dating back to the 1950s, when Saint Laurent had been an assistant at Dior. As a young reporter, Fairchild had had a hunch about Saint Laurent (fashion is all about hunches). He saw him as a rebel, breaking from the old tradition of couture. Fairchild liked to say that Saint Laurent's collections crackled. Years later, when the couturier's health was failing, when his fame had eaten him up, and the rumors were once again ricocheting around Paris that he was having a nervous breakdown, and when Bergé forbid anyone to see him, Mr. Fairchild would go to 5 avenue Marceau to check and see if Saint Laurent was still alive, waiting outside the door until Yves emerged, heading home with his beloved bulldog, Moujik.
Prior to my arrival at Fairchild, relations with the house of Saint Laurent had deteriorated. Bergé had banned Mr. Fairchild and his min­ions from Saint Laurent's shows because of what he thought was an in­adequate review. Fairchild had scrambled to redeem himself and his staff, producing a leather-bound book of the many editorial pages devoted to Saint Laurent. But Bergé would have none of it. Women's Wear Daily was kept at bay for two years. Finally the ice broke. Saint Laurent recovered from his nervous breakdown, and Bergé summoned Mr. Fairchild.
As much as they fought and complained about each other—often bitterly—Bergé and Fairchild needed each other. In order to keep his multimillion-dollar global brand going, Bergé needed Women's Wear Daily to feature Saint Laurent on the cover of the newspaper and to rave about his collections, even when they weren't news anymore. In return, Mr. Fairchild needed Bergé to give him exclusive access to Saint Lau­rent. Access was Fairchild's currency.
In those days, before fashion became a business controlled by luxury groups and number crunchers, Paris fashion was its own fiefdom, a magical machine where trends emerged and were then disseminated by Women's Wear Daily to retailers and consumers around the world. Mr. Fairchild's power lay in his ability to access the designers first and to control and manipulate the information they gave him. If Saint Laurent or Emanuel Ungaro or Claude Montana lopped off hemlines and showed miniskirts, Mr. Fairchild would see it first in a preview and pro­claim it on page one of Women's Wear Daily: Paris says short! He pushed fashion in the direction he believed it should go.
Mr. Fairchild had a soft spot for Saint Laurent. Some would say he even had a kind of a crush on Saint Laurent, a fashion crush. Bergé knew this. What was not to love? Saint Laurent was a brilliant storyteller with a soaring imagination. He was sure of his success, always had been, since his early days growing up in Oran, Algeria, watching his mother in fittings with her dressmaker and telling his sisters what to wear. This confidence allowed him the freedom to dream: He would write and direct plays, using his sisters as actors. He would create dresses from scraps of fabric and entice his sisters into his fantasy world. Fashion for Saint Laurent was about drama and theater; the runway was where he'd tell his story.
Thanks to champions like Mr. Fairchild, Saint Laurent had been the reigning designer in the Paris fashion firmament for some time. But now it was clear that he was starting to age, worn down by the relentless rhythm of the business and disabled by nerves, drugs, and drink. But to Mr. Fairchild he was still Saint Laurent, the legend who blew up the conservative world of 1950s haute couture with beatnik mo­torcycle jackets and masculine tuxedos and iconic collections inspired by Masai warriors, Pi­casso, Braque, and the magnifi­cent Ballets Russes. His couture shows were still breathtaking, even though they mostly re­hashed his greatest hits—Le Smoking tuxedo pantsuit, a brilliant satin ball gown, a wisp of chiffon for an evening column—looks that had be­come hallmarks of Parisian chic.
At the end of each show, the barrel-chested couturier would stride unsteadily down the runway, gripping the arm of a model, the bride, and smiling his zig­zaggy smile. To behold this old master in the twilight of his brilliant career was painful and poignant. And yet, no matter how drunk or drugged he appeared, Saint Laurent made you feel as if you were in the presence of greatness. The soaring notes of Puccini on the soundtrack, the bold painterly strokes of color, the gazelle-like models: He could still summon such emotion. He could tell a story of elegance and sex and exotica with fabric, inevitably leaving the devoted society matrons and jaded magazine editors in the front row in tears.
As we approached Saint Laurent in the studio that afternoon, he did not get up. He was sitting at his desk, nodding and smiling timidly be­hind his Coke-bottle-thick glasses, a cigarette dangling from the side of his mouth. Shaky, with a crooked smile that seemed to move horizon­tally across his face, Saint Laurent fixed his rheumy gaze on the fitting model's reflection in the mirror. She was swathed in a cloud of black-and-white silk chiffon, her arms awkwardly suspended in the air like wings. The première d'atelier flou, Madame Georgette, hovered over her, tugging nervously at a swatch of intricately pinned lace.
Mr. Fairchild had always warned us about the power that lurked in Saint Laurent's shyness. "He is stronger than an ox," Fairchild would say, "stronger than any of us!" And although the couturier didn't say much, he was taking it all in, sizing up each of us, one by one. And then he started to speak, haltingly, in a soft voice.
"Il fait chaud … New Orleans when it's too hot," he said, and the room went still.
"Vous sentez le soleil." The sun. Hot. Yes, you could feel it, almost.
The model, dressed in a voluminous hoop skirt with a snug bolero and a wide-brimmed straw hat, sat down in a chair in front of the mir­ror, and, like an actress, she began to inhabit the role, to take direction from Saint Laurent. The photographer snapped away while the coutu­rier told his story, bringing his sketches to life in the mirror.
He was difficult to understand, because he spoke so softly. Was she—the protagonist of his story—a grande dame, a Steel Magnolia, or a Scarlett O'Hara–style heroine from the antebellum South, sitting on the porch of her Greek Revival townhouse in the Garden District? Or maybe it was an eighteenth-century garden? Part of the effectiveness of his storytelling was a certain elusiveness. As you listened, you were free to fill in the story with your own imagination. He may have described the thick white columns fronting the porch, the rocking chair swaying slowly back and forth, and the stillness of the afternoon. Or maybe I imagined all that.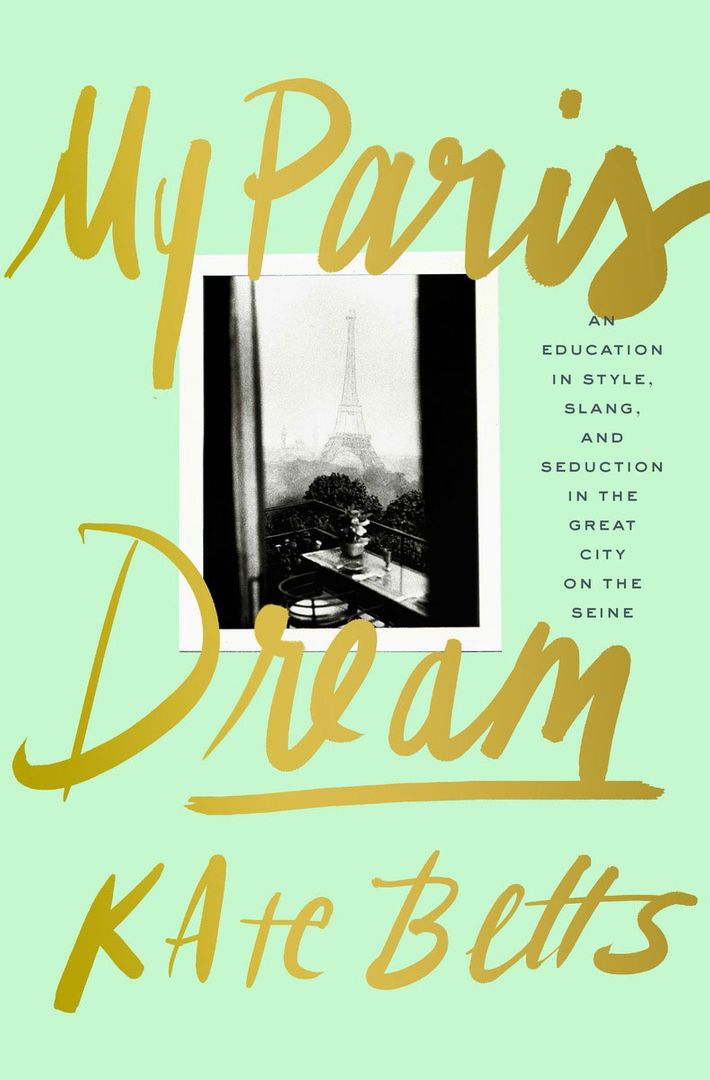 As Saint Laurent spoke, the model's head rolled back lazily and she slid down in her chair, as if she were wilting from the humidity. At one point she reached a long slender hand into the pocket of her skirt, pulled out a fan, and began waving it rhythmically away from her face. The temperature in the room seemed to rise.
I scribbled down every word, mesmerized by the weird and wonder­ful character in his double-breasted pin-striped suit—so formal, like a banker lunching at Taillevent, and yet so shy and childlike, telling a story about his model as if he were back in his childhood home, instructing his little sisters on how to dress, how to behave. In that moment, I un­derstood Fairchild's obsession with Saint Laurent as a storyteller and with fashion as a carefully coded language that tells both an individual's story and a culture's broader history. You could dismiss fashion as some­thing frivolous and ultimately irrelevant, but we all have to wear some­thing, and what we wear says so much about who we are and how we see ourselves. Saint Laurent understood that.
Had Saint Laurent ever been to New Orleans? Was he describing a place he knew well? It was difficult to imagine him stumbling through the French Quarter with his lion-like mane of overdyed orange hair, the ever-present cigarette in his mouth.
Of course he had never been to New Orleans! When Saint Laurent traveled, he ventured as far as his home in Marrakech or his dacha in Normandy, and even those trips were less frequent now. Saint Laurent lived in his head, feeding his imagination with books piled high on his desk or crammed into the shelves along the studio walls: Watteau, Goya, Picasso, Frida Kahlo, Warhol, Lanvin, Fortuny, Seurat, Cassandre. Like the brilliant colors of the glittering satins and silk brocades scattered across the desks, these books illuminated his imagination; they gave him passage to distant cities and streets so he could describe their mysterious residents and characters as if they were intimate acquaintances, members of his family. Saint Laurent's true gift was his ability to give his fantasies a material life of their own.
He never actually described the dresses we had come to photograph, their fabrics, their shape, or their colors. He didn't tell us anything about the haute couture collection he was preparing. So many designers rat­tled off names of muses, colors, artists, all in an effort to associate their designs with worthier images and icons. But Saint Laurent told a simple story. He gave his clothes meaning by putting them in a context, a place in which he could evoke a woman's style, where she sat, why she wore a particular dress, how her hat kept the sun off her face and the lace bolero kept her cool. He understood better than anyone that style was not simply about appearance. Style was about gestures, experiences, and taste. Style was about context. Style told a story: It began with a time and a place.
"C'est ça," Saint Laurent said,  jutting his chin out for emphasis, snap­ping us out of our reverie. The story was over. The preview was done. Mr. Fairchild glanced at me with a look that said, "I hope you got all of that."
"Merci, Yves, c'est magnifique," Mr. Fairchild said, patting the couturier on the back. He turned on his heel and headed toward the door.
Excerpted from My Paris Dream by Kate Betts. Copyright © 2015 by Kate Betts. Excerpted by permission of Spiegel & Grau, an imprint of Random House, a division of Penguin Random House LLC. All rights reserved. No part of this excerpt may be reproduced or reprinted without permission in writing from the publisher.