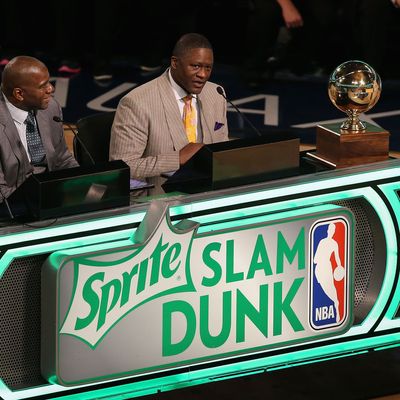 Photo: Christian Petersen/Getty Images
If you've been watching the NBA playoffs, you may have noticed that the NBA, like just about every major sports league, really likes sponsorship deals. Halftime shows are sponsored. The (Sprite) Slam Dunk Contest is sponsored. All sorts of little segments and events are sponsored. It's clear that big companies really, really like to get their names attached to major sports leagues. Perhaps the best example is stadium-naming rights, where the sums are stratospheric: MetLife paid $400 million for a quarter century's worth of naming rights for the stadium where the NFL's New York Giants and Jets play; Citigroup paid the same amount to affix itself to the New York Mets' stadium in Queens.
But do these deals work for the companies in question? There's actually very little data on the question, said J. Scott Armstrong, a marketing professor at the Wharton School of Business, but he thinks the answer is probably no. The basic idea here is that companies are trying to tie into the "mere exposure" effect — a well-documented phenomenon in which, all else being equal, the more familiar you are with something, the more you like it. "However, the effects are so weak that it is unlikely that one gets a return on investment," he explained in an email. "I was unable to find a single experimental study that showed it to produce a positive return on investment."
He sent me an excerpt from his 2010 book, Persuasive Advertising: Evidence-based Principles, in which he noted that "A review found 233 studies on corporate sponsorship, only one of which examined how sponsorship affected behavior. The relationship was weak" (link added). On the narrow question of stadium-naming rights, a study led by Eva Marikova Leeds of Moravian College, published earlier this year in The Journal of Sports Economics, found that purchasing "[stadium] naming rights do not have a lasting impact on the profitability of the firms that buy them."
One famous counterexample to the idea that these deals work is the U.S. Postal Service's sponsorship of Lance Armstrong's cycling team (which kicked in long before he was a household name and subsequently embroiled in scandal). Though the USPS initially claimed it was a profitable deal, a 2003 USPS Inspector General report found otherwise: The IG could only confirm $698,000 in revenue generated from the deal, which would mean, as Armstrong points out in his book, that it lost $39 million in the sponsorship deal overall.
Armstrong (the professor, not the biker) said that on the one hand, he's surprised companies seem to have so little interest in determining whether these deals pay off. But on the other, there are clear incentives for them to keep pursuing such arrangements. "People who are running the company feel good about it — and this is just speculation, of course — they feel important, I imagine," he said.
In other words, if you work for a company looking to buy naming rights, it's simply cool to have an association with the NBA or the NFL or a snazzy new stadium, and in some cases it can lead to tangible benefits like hanging out with celebrities or attending playoff games. "I think they just assume it's going to [work], and it's a fun project to get involved with," Armstrong explained. This can help explain the response he's gotten when he's queried employees of companies directly as to whether they try to calculate the return on investment on their sponsorship deals: "Nah, we don't do that."