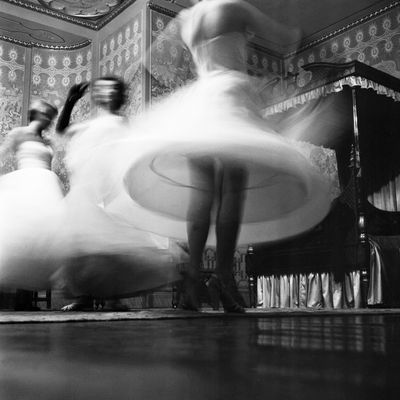 Photo: Thurston Hopkins/Getty Images
Yesterday, Oregon's State Senate advanced a bill that would make it illegal to take nonconsensual photos up women's skirts, aimed at closing an existing legal loophole that, earlier this year, let a 61-year-old man get away scot-free after taking pictures up the skirt of a 13-year-old girl at a Target. If this scenario sounds a little familiar, it is: Over the past few years, similar incidents have made numerous other states retroactively aware of the inadequacy of their existing privacy laws.
The issue gained attention last spring, when Massachusetts's highest court ruled in favor of an accused Peeping Tom who argued that taking up-skirt photos of a woman on Boston's MBTA subway was an extension of his First Amendment rights. The court ruled that although the state's existing Peeping Tom law prohibited taking nude or partially nude pictures of an individual without their consent, there was no provision for circumstances in which the person being photographed was technically fully clothed. Two days after the ruling, Massachusetts Governor Deval Patrick signed a bill that made taking photos or videos under a person's clothing illegal — yet, a year later, Massachusetts remains one of only a handful of states where taking up-skirt photos is illegal.
In many states, existing voyeurism laws haven't caught up with technology — and it often takes someone being acquitted for some variation of up-skirting before the state recognizes the loophole. The issue is made more difficult by the fact that some state laws don't adequately protect individuals' right to privacy in public spaces — making it difficult to prosecute against photos taken in places like subways. Last fall, Texas's highest criminal court decided that a new law banning "improper photography or visual recording" — aimed at prohibiting under-clothing photography — was unconstitutional; a similar bill in Wisconsin has stalled in the Senate. In addition to Massachusetts, states that have passed measures outlawing up-skirt photography include Kentucky, Florida, and Pennsylvania. Hawaii, New York, Virginia, and Washington also have laws that prohibit taking nonconsensual under-clothing photos.
In Oregon, the bill in question was proposed by a teachers union after a middle-school student took a cell-phone photograph under a teacher's skirt and shared it on social media. "The majority of the school had seen it before I was even aware it existed," the teacher, Dana Lovejoy, told the state's House Committee, testifying in favor of the measure. The proposal still requires approval in the House.