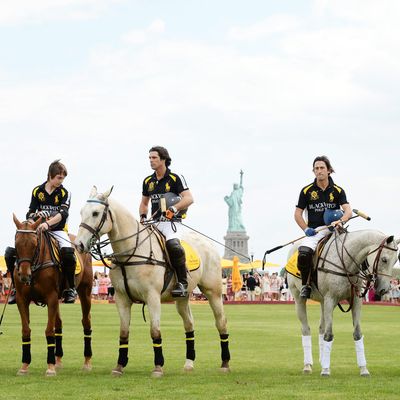 Photo: Dimitrios Kambouris/Getty Images
Do you like horses? Hot men? Champagne? Would you like to stomp the divots in a sundress like they do in Pretty Woman? You're in luck, because the eighth annual Veuve Clicquot Polo Classic is coming back to Liberty State Park on May 30.
In case you didn't get your act together to buy tickets yet, we've reserved five pairs of tickets (plus, transportation to and from Manhattan or New Jersey Light Rail, and access to Champagne bars, merchandise tents, and gourmet food trucks) for Cut readers who can best answer the following question in one sentence:
If Drake's "YOLO" stands for "you only live once," what would "POLO" stand for?
Leave answers in the comments below, or email us at socialmedia@newyorkmag.com.
We'll be selecting the winners on Tuesday May 26, at 6 p.m., so be sure to submit before then. Full rules can be found here.