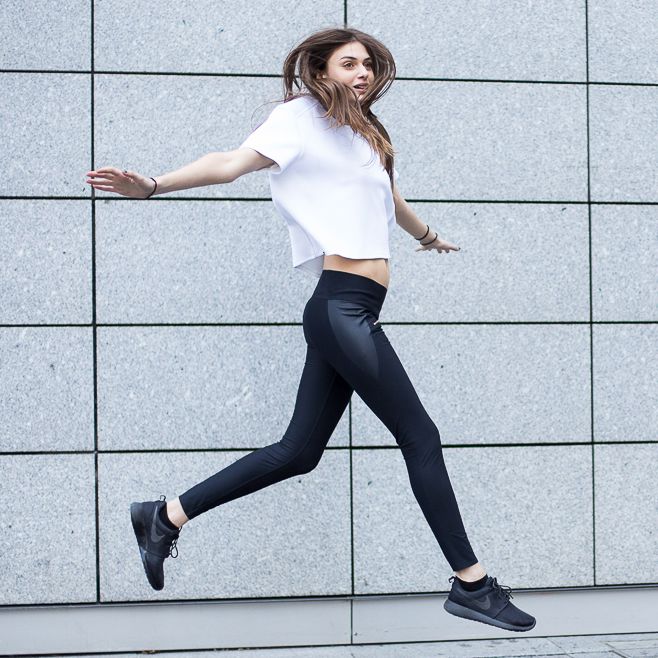 The general concept of athleisure can be a little bit perplexing: How can spandex leggings take you, as the overused phrase goes, from "day to night"? Your capri crops are not meant to "go everywhere you go." But ex–Goldman Sachs employees Nina Faulhaber and Meg He are hoping their new activewear company, ADAY, will make the concept less confusing. They've designed a small, curated selection of workoutwear, which includes a $75 crop top, $140 "workout" jumpsuit, and $100 machine-washable leather workout pants.
Faulhaber and He talk to the Cut about how they deal with start-up uncertainty and how they came to know the ins and outs of spandex.
How did you two meet?
Nina Faulhaber: We met originally at Goldman Sachs where we worked together and shared a lot of passions, including fashion. I was always a super-active person and competed in gymnastics. When I started working, I lost that. I would always bring my gym bag with me but so many days I didn't make it.
Meg He: I originally didn't know what working out was about. I would often go to the gym just to use the steam room and sauna. I did my MBA at Stanford and I remember someone asking, "Do you want to go for a run or a yoga class?" I thought she was a complete weirdo. Then I went to a yoga class with my gay best friend and continued going and eventually got my yoga teacher certification. Nina and I both tried to work out in a lot of normal clothing. We both had leather pants that we loved but couldn't wear for both workouts and the day, despite them being so great and flattering. It seemed ridiculous to us that clothing like that didn't exist.
It might seem ridiculous to people that leather pants for working out do exist. What does ADAY represent?
M.H.: It's supposed to stand for "a day," another day to push it. We are between London and New York a lot for our business, so we see ADAY as a brand for your active life. Nina went to Central Saint Martins and took a short course in sportswear and I had done some sewing. And at first, we literally thought that was all you needed. We thought you found a factory, pressed a button, and the clothes came out. But we were very resourceful and determined. We asked around to see if anyone knew anyone from fashion. We were really lucky that one of my best friends founded Everlane. We met up with the ex-product officer for Lululemon who taught us a lot about leggings and spandex.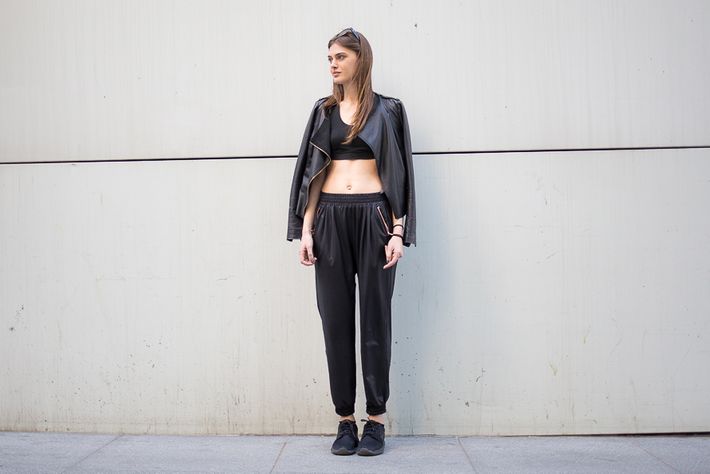 What was the process like for sourcing these performance materials?
M.H.: We have two factories. One is in Portugal and the other is in Los Angeles. Originally, they wouldn't talk to us and we realized that this is the factory that produces all of Michael Phelps's swimsuits for the Olympics, Marni, and Rag & Bone. We knew we had to get in there. Even though he told us we needed to come back in six months, we flew down there and basically were like, "We're here anyway and you might as well meet with us." He showed us everything and we pitched the idea. The factory is very entrepreneurial and believes in people's successes. We are actually the only prelaunch brand in their factory and that is because they bought into our vision.
N.F.: For our clothes, it's about hiding active properties in contemporary garments. As Meg [explained] with the story about the leather pants, it's a fabric that is unique to us. It looks like leather and feels like silk. We wanted to make life easier by creating these fabrics that are machine-washable. While we were in Portugal, we found this amazing Alexander Wang jacket that was laser-cut. We laser-cut our own mesh, so that it has cooling properties but still feels very subtle.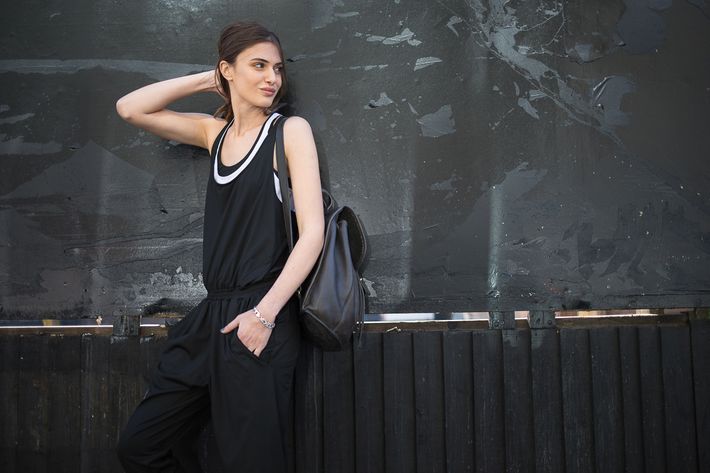 How do you guys handle the uncertainty that comes with a start-up?
M.H.: It's always going to be scary especially when you first get started. There were all these times when we were like, "Should we just create an app?" And sometimes you wake up and you're like, What is this fashion world I am in? But you have to follow your heart and dreams. We are big believers in the universe just letting it be. Now we have our prototypes and the positive feedback. But for the first five to six months when you are away from other people, you don't get any of that. It's about hard work and being fearless.
There's also a big thing called founder's mentality. It's about getting your mind to be at a good place so that even if a bad thing happens, you can react to it in a good way. We both work out a lot. We also meditate. It's about having the support system around you. If anyone in your close circle is against that, it's difficult. I believe you are the average of your five closest friends, so you need to have friends who are absolutely supportive.
This interview has been condensed and edited.