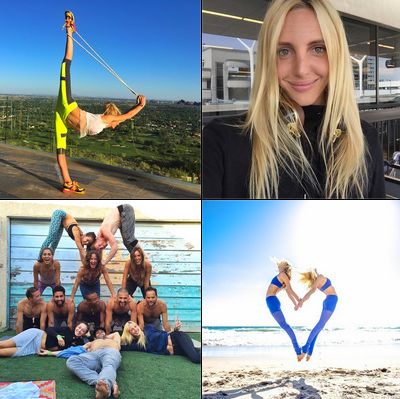 Photo: gypsetgoddess/Instagram
Yoga has long been big on Instagram: people doing yoga in fancy workout clothes, people doing yoga on the beach, people doing yoga on the street. And now, just as fashion bloggers are making careers out of their Instagram accounts, so too are yogis.
Yoga instructors likely don't command thousands of dollars per sponsored post the way fashion bloggers can (Danielle Bernstein of We Wore What recently told Harper's Bazaar that her agency charges between $5,000 and $15,000 for a product placement, a rate that she planned to increase after hitting 1 million followers). But Well+Good reports that some Instayogis are raking it in, either in the form of product placements or travel to retreats and luxury resorts where they are hired to teach (or just pose for beautiful photos).
"I saw all of these girls getting popular by doing yoga on Instagram," said Caitlin Turner (@gypsetgoddess; 234,000 followers). "I thought, I'm cute, I'm strong, I travel to places with cool backdrops, I can do this!" Turner, who lives in Scottsdale, Arizona, recently posted photos from resorts in Tulum and Punta Nizuc, Mexico. When she specifies the yoga clothes she's wearing, it's usually the same indie brand, Alo Yoga. (Turner didn't tell Well+Good if she is paid a fee for featuring products or if they're simply gifted to her.)
Others have gone more corporate: Laura Kasperzak (@laurasykora; 1 million followers) and Masumi Goldman (@masumi_g; 126,000 followers) joined forces to create wellness site Two Fit Moms, and now they're "Gaiam-sponsored yogis" who advised on the fit of the brand's new apparel line at Kohl's.
Aside from one intro post mentioning the collaboration, none of the photos on the @twofitmoms account featuring the Gaiam line say that Kasperzak and Goldman are brand ambassadors. It seems that om's the word.