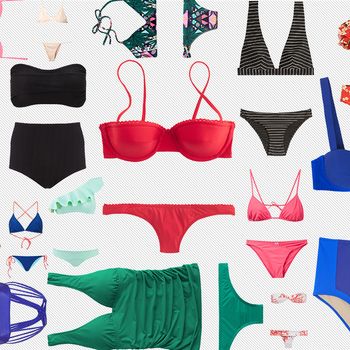 Swimsuit shopping is hard enough, but finding a bikini that's flattering (and that you like!) can feel like an insurmountable challenge. But if you're ready to overcome insecurity, we've got you covered — or, ready to be uncovered. Nervous about thin straps digging into your back? Go for a thick-strapped suit from Zimermann that has a double-bonded underbust band. Or maybe you want to conceal your stomach-and-love-handle area? You'll be happy to know that you don't have to choose a plain black suit: Araks color-blocked high-waisted suit with geometric patterns does wonders, so you won't have to keep your core flexed for hours. Click ahead to see 30 bikinis that will empower you to breathe out and stand tall on the beach.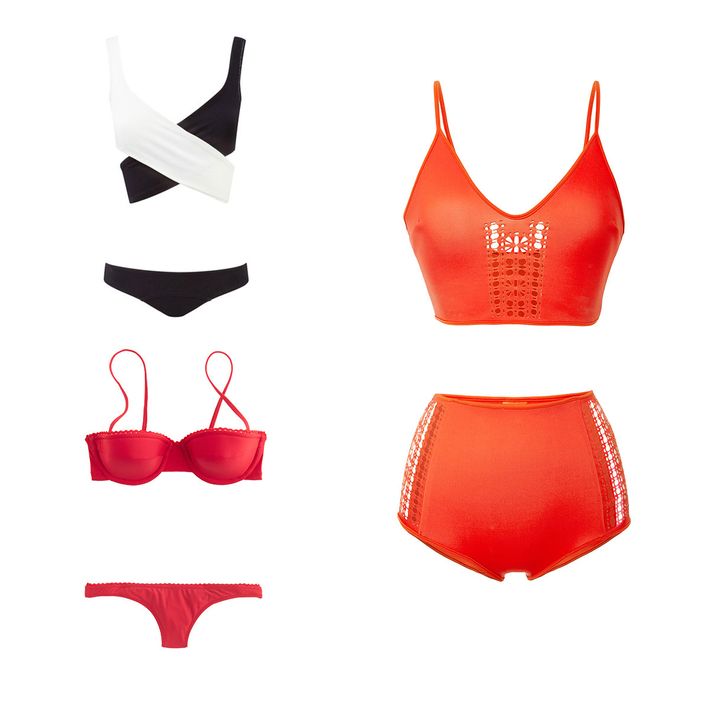 If You Want to Enhance Your Curves
For women with curves, most bikinis are simply too tiny and don't have enough fabric. Clover Canyon's laser-cut high-waisted suit is made from neoprene, which molds comfortably to your body, while Lisa Marie Fernandez's suit has a crisscross wrap top and moderate-coverage botom.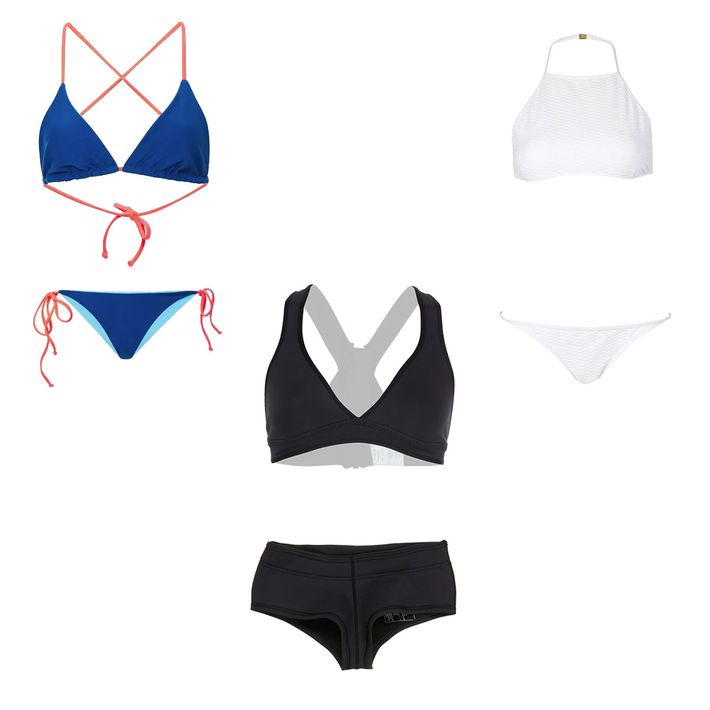 If You Want to Flex Your Muscles
Stay away from straight-across bandeaus and get creative with your straps. Opt for bright colors like Basta Surf's contrast bikini, or try Topshop's halter bikini, which has a feminine cut, giving you more of a shape.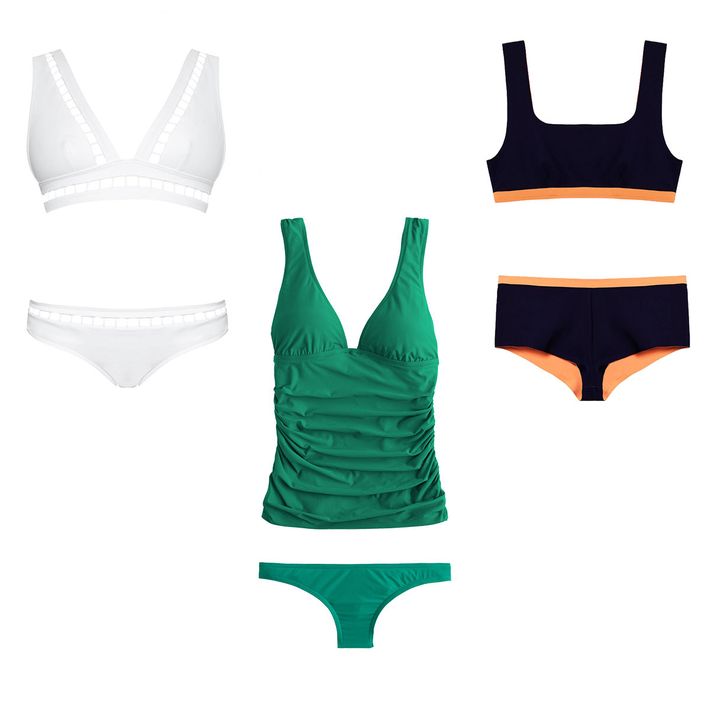 If You're Nervous About Your Back Fat
To smooth out your back, your bikini should have wider straps so that they don't dig into your skin and create ripples. Zimmermann's straps are made from bonded lycra with an underbust band that lays completely flat; or if you want more coverage, try J.Crew's tankini top.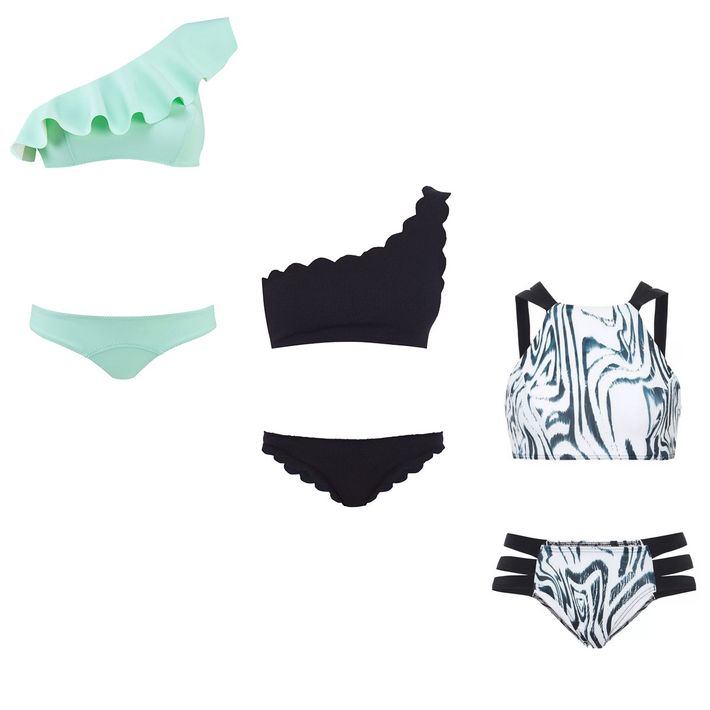 If You're Self-Conscious About Your Shoulders
Balance out your proportions with a one-shoulder suit like this scalloped Marysia bikini or Suboo's halter neckline. Both will help draw the eye up and away instead of straight across your collarbone.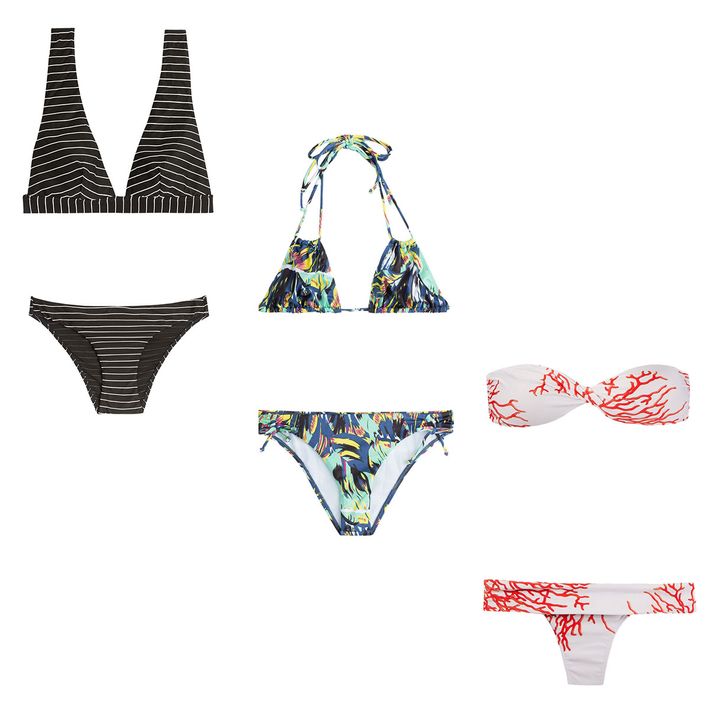 If You're Petite
Bikini bottoms are a standard set size, and usually too big if you're petite. Look for bottoms in brief styles, like Brigitte's coral-printed set, or styles that cinch and tie on the sides, like this Kenzo bikini.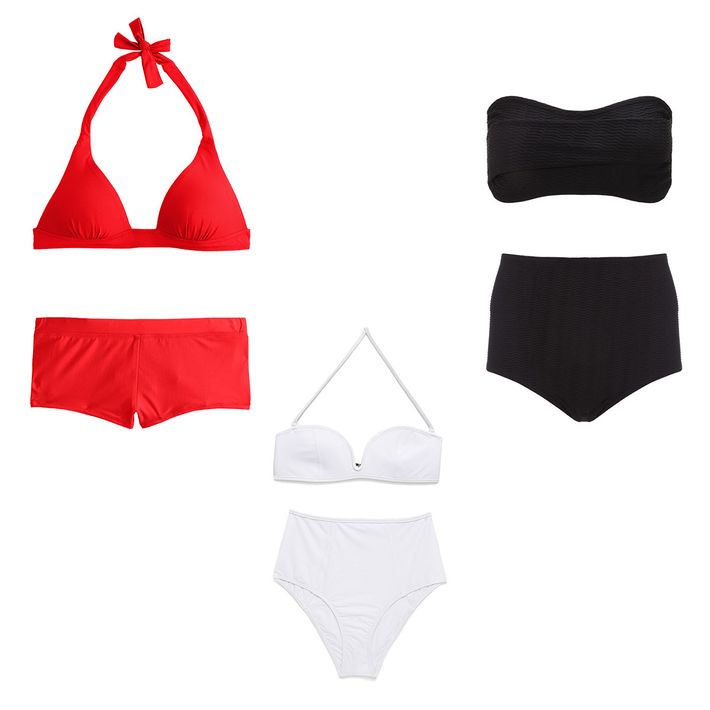 If You Want to Show Off Your Junk in the Trunk 
Most bottoms naturally ride up, so look for a bikini that shows off your assets in exactly the way that you feel comfortable, like these boy shorts from J.Crew or Her the Label's suit, which features a high wasitline and low-cut seams to elongate your figure.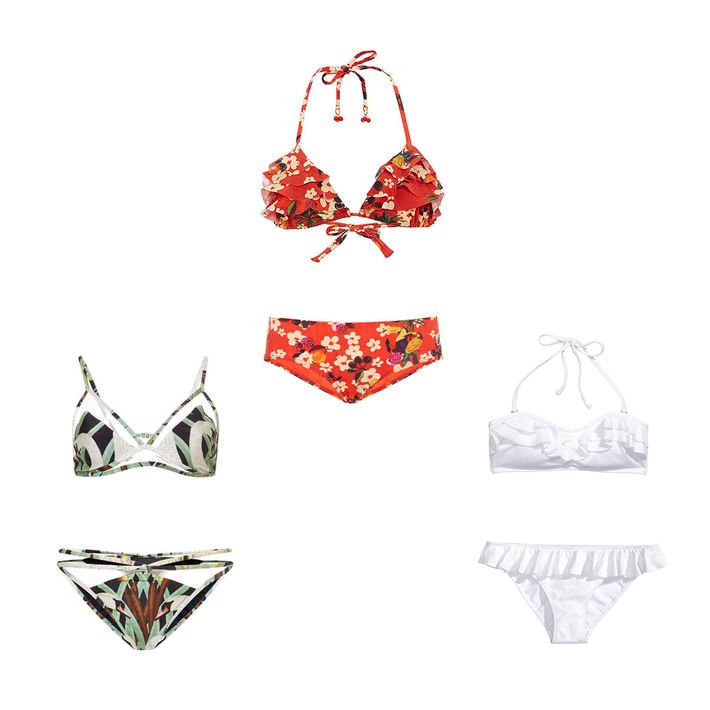 If You Want to Give Your Chest a Lift
The obvious choice is to find a suit with padding if you want a little lift, but if you want to subtly enhance what you already have, try Adriana Degreas's triangle-paneled top with cutout details, or H&M's ruffled top that has slightly gathered ruching in the center and removable inserts.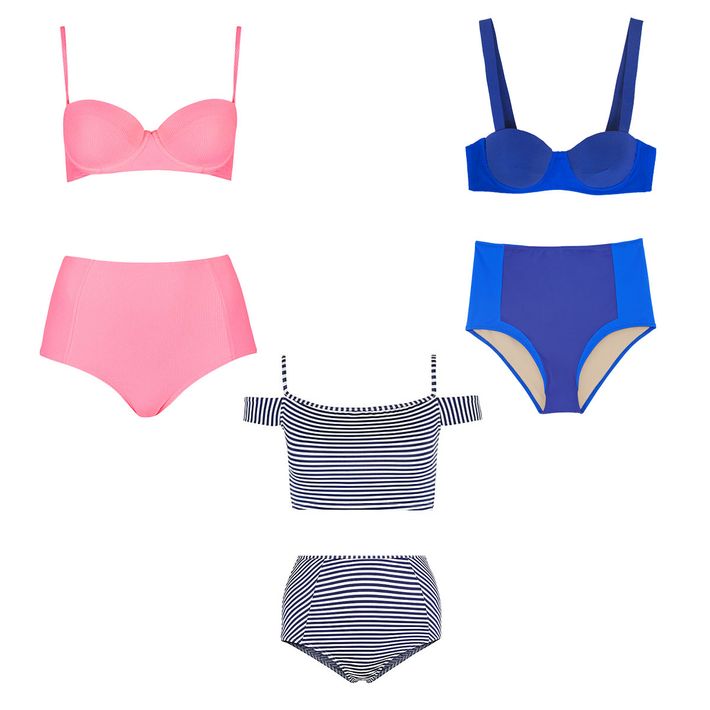 If You Want to Cover Your Tummy
Stick to high-waisted bikinis, but make sure they hit above your belly button for a more flattering silhouette. Araks's strategically placed color-blocking distracts from the middle section, and New Look's bikini stripes are a bit pixelated, making it more of an optical illusion resulting in a slimmer silhouette.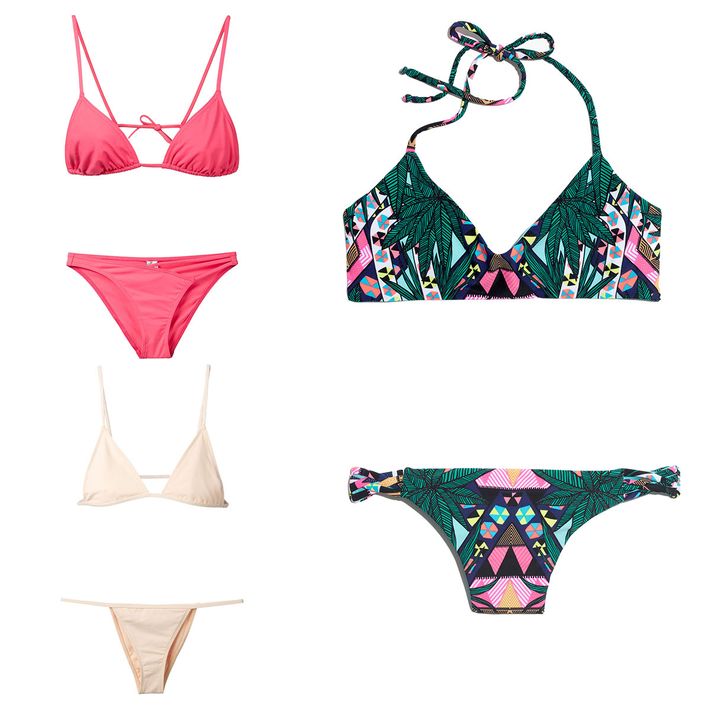 If You Want to Perk Up Your Booty
Give your backside a little visual boost by picking bikinis with patterns and minimal cuts. Mara Hoffman's basket-weave set has a fun, tropical print, and if you're brave enough, go for Minimale Animale's nude string bikini.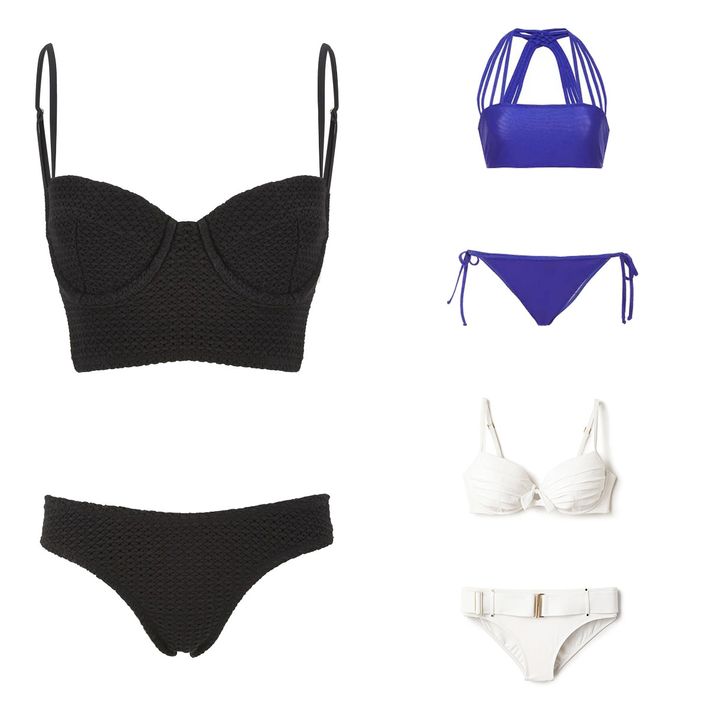 If You Want Extra Support for Your Girls
The last thing you want is to be constantly tucking in your boobs and holding your chest every time you're coming up from a wave. Look for a bikini that has an underwire bustier, like Wildfox's crochet set, or Shan's molded bra, which has metal clasps on the back.