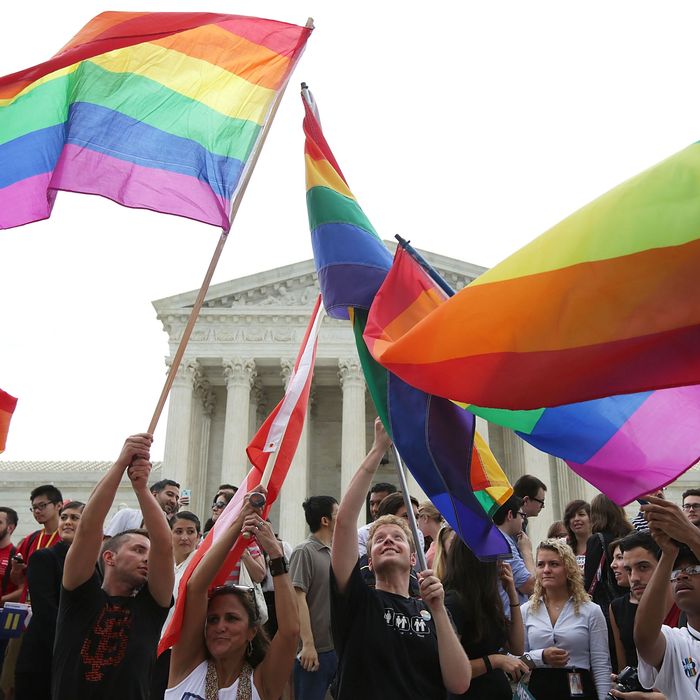 Photo: Alex Wong/Getty Images
It's finally the end of a long week, and it's going to be a beautiful, buckwild weekend — at least if the Supreme Court has anything to say about it. Before you kick off the celebration, here are eight actually good things that happened this week.
1. The Supreme Court legalized same-sex marriage nationwide. A monumental 5–4 Supreme Court decision made Friday morning promises marriage equality to gay couples across the states, just in time for New York's Pride Weekend. 
2. Swimsuitsforall released a bathing-suit ad campaign that didn't use Photoshop. The pioneering plus-size bathing-suit line released photos and videos of models donning their swimwear, sans touch-ups.
3. Kimye is having a boy. KIMYE IS HAVING A BOY.
4. Disney has decided to ban selfie sticks from its parks, saying they pose a "safety hazard." They also pose an annoyance hazard, so this decision is especially convenient.
5. Google banned revenge porn. The company will release a form in the coming weeks that allows victims to request their images be removed from the search engine, representing a huge step forward in the fight against nonconsensual pornography.
6. We met a gorilla who's more handsome than any of the dudes on Tinder. Just look at him!
7. Janet Jackson released a new song. The beloved pop star is back from a seven-year hiatus with "No Sleeep."
8. These puppies got makeovers. And they look ravishing.