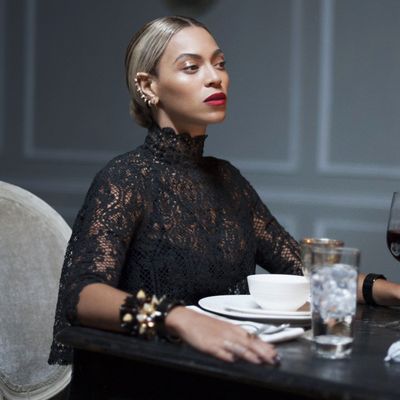 Beyonce, highlighted by Sir John.
If you obsessively follow beauty Instagram accounts, then you might have stumbled upon #strobing in the past few weeks, a "new" makeup technique that some are calling the "anti-contour." It's a light-reflecting method in which a shimmery powder or cream, slightly lighter than your skin color, is applied to strategic areas around the face. Some say strobing is highlighting with a fancy new name, while others point to MAC's cult luminizing Strobe Cream as an inspirational catalyst for the reemerged trend.
"Strobing is not something new, we've been doing this for a while," explains makeup artist Sir John, who calls Beyoncé, Chrissy Teigen, and Joan Smalls clients. "It's the same thing as highlighting, but with a different name. When I first started working for Beyoncé during the Mrs. Carter World Tour, I wrote about highlighting on her website. It's all I really talk about — reflecting light in the face."
The so-called "resurgence" of highlighting (or strobing) is a timely one, because summer is the best time to pare down your makeup load. Unlike contouring, where a darker foundation shade is used to hollow cheeks and sculpt jawbones, strobing's highlight-based approach emphasizes points on your face where the light is most likely to hit. These include the top of your cheekbones, the bridge of your nose, and the Cupid's bow. The result is a radiant, beaming complexion that, when done right, looks like a completely natural glow and offers a sculpted look with significantly less heavy makeup than contouring.
"You need to find cosmetics that make the highlight look like it's coming from within, like a cream highlight," says Sir John. "Ditch the brick [highlighters] because they look heavy and chunky on skin. A cream anchors a good highlight." He recommends dabbing on a small amount of L'Oréal Paris's True Match Lumi Liquid Glow Illuminator with your ring finger for a dewy, fluid glow, and La Prairie's Radiance Cream as a highlighter for more mature skin. Blush goes on the apples of your cheek while highlighter goes slightly above that. Don't limit the highlighting to just your face, he says. "Bring the conversation down the body as well: the collarbone, the shoulders. Brush a little into your cleavage, even on your  legs. The whole body should glow and have that radiance. Take a couple of the L'Oréal Paris Lumi highlighters in a few different shades for a multidimensional shimmer, mix it in a cup with any moisturizer, and then rub it all over your body. Give yourself about 10 minutes for it to dry, and once it dries, it's transfer resistant. Your skin will have this beautiful glow that will stop traffic. I did this to Beyoncé at the Met Ball from head to toe."
But if you want to really play it simple, Sir John has this idiot-proof highlighting hack: "Get any kind of moisturizer with SPF in it. SPF is a really cheap way to give yourself a really sexy, luminizing glow."