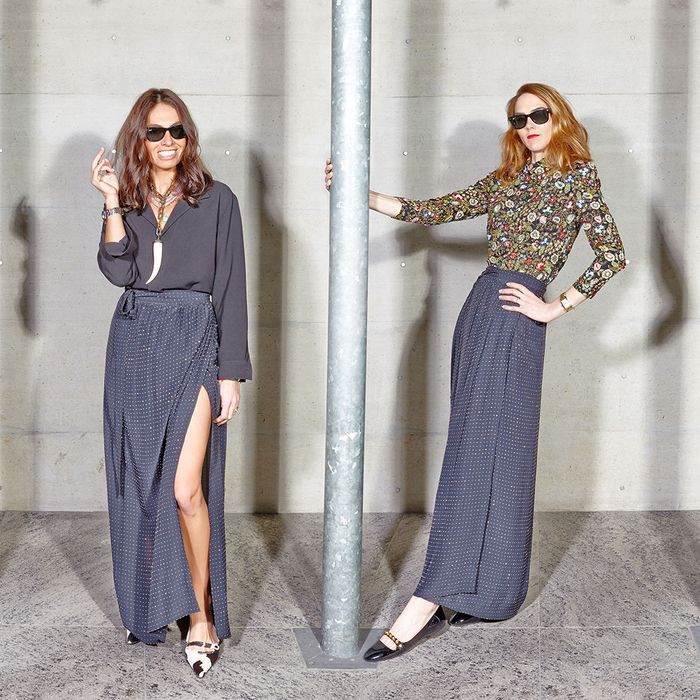 Photo: Courtesy of La Double J
Earlier this year, we called La Double J — the e-commerce site created by J.J. Martin — our favorite vintage shopping site on the web. Part of its appeal had to do with Martin's ability to scout one-of-a-kind vintage pieces and put them on Milanese women in their perfectly appointed homes, and part of it was the thrill of seeing vintage clothes mixed together with current-season pieces. La Double J makes 50-year-old items look like what you need to wear now. 
The site's new recurring feature, Vintage Wars, elaborates on that theme: What happens when you give a single vintage piece to two stylish women and ask them to wear it however they want? Every week, we'll bring you a new installment: one piece, styled (and modeled) by Martin and her impossibly chic friend, Viviana Volpicella. This week, a long Christian Dior skirt.
Viviana Volpicella: This vintage skirt is sooooo beautiful.
J.J. Martin: I know, I love it, too. But to be honest, I wouldn't have thought you'd like it. I never see you in a long skirt.
V.V.: I wear them rarely. I like this one because I can slide my leg out. The attitude is just like that.
J.J.M.: Dude, you look like Angelina Jolie at the Oscars. Put that leg back!
V.V.: No. I won't. But in my head, I imagined myself as Diana Vreeland, that's why I wore the big horn necklace and low shoes.
J.J.M.: Vreeland would not have had her shirt unbuttoned to god-knows-where. She would've had a turtleneck on — like the embroidered one I fished out of my closet.
V.V.: My version is maybe crossed with a little bit of Johnny Depp.
J.J.M.: I have never met anyone who gets dressed with more character references in her head than you. I don't imagine anything. I simply try to find colors and patterns that look like a happy car crash.