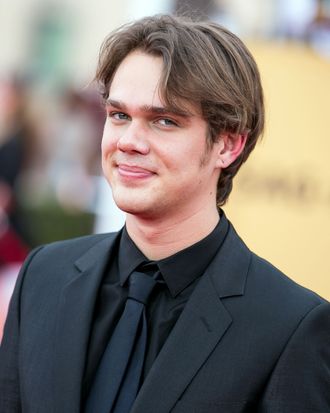 Photo: John Salangsang/BFAnyc.com/BFA NYC
Having landed back in his hometown of Austin, Texas, after a whirlwind trip to Milan men's fashion week, Ellar Coltrane is still coming down off his elation. The Boyhood star only attended one collection — Fendi, his first-ever fashion show — which was "kind of decidedly un-chic in a way, which I liked," he says. "That was all I had time for, but it was really cool." He met fellow actor turned model RJ Mitte, best known for his role in Breaking Bad, and notorious of late for his stomp down the Vivienne Westwood runway. "I had never met him before but we kind of became friends. He's very sweet."
Sure, a few things surprised him about what he calls his "cherry-popping" front-row experience. Coltrane was most surprised by how short the show was — "Like 15 minutes. I was interested to see how massive of a production it is. And then the actual show goes and then it's done. It's a lot of buildup to a quick thing. But it's very focused while it's happening."
Coltrane, who signed with Wilhelmina Models in March, is already on a brisk trajectory. "I just had a spread come out in L'Uomo Vogue and a couple other things that I shot earlier this year. I shot with Citizen K when I was in Milan and one other publication, I can't remember what the name of that one was. That's really it for now as far as modeling goes," he says, modestly omitting his turn as one of Paper's Most Beautiful People. He's also planning on making the trip to New York for the inaugural Men's Fashion Week in mid-July. "I've always been quite a fashion whore, for lack of a better word," he says. He had done some modeling early on, but developed a liking for it during the promotional push for Boyhood, when he and his co-stars posed for the likes of GQ and Vanity Fair. Bolstering his public persona has been more of a challenge: "They're telling me I need an Instagram," he says ruefully.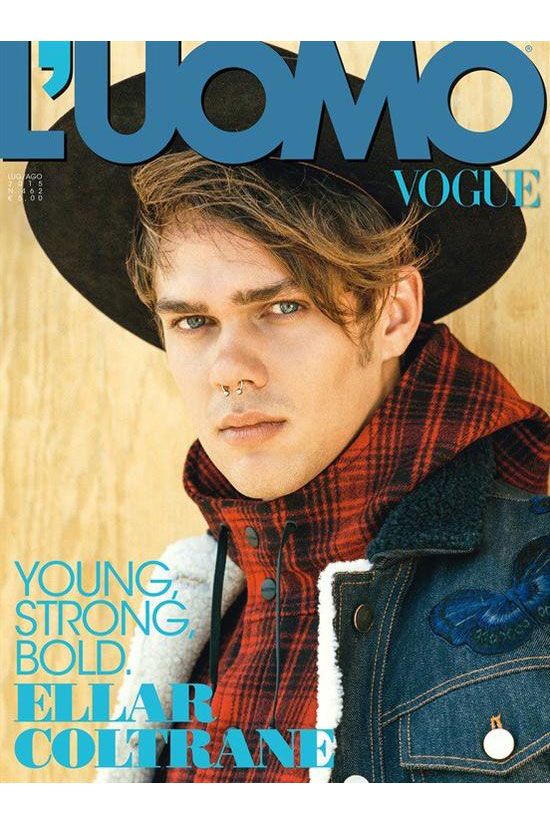 He shot the L'Uomo Vogue cover with Bruce Weber in Miami: "Bruce was just the best, as I'm sure everyone says." He calls the photographer "very laid-back but very well-organized. He has a very big team and that allows him to be very low-key and intimate. It's more an interaction between him and his models as opposed to a subject-documenter relationship." He also spent a spell in front of the lens of Saint Laurent's head designer, Hedi Slimane. "When I was shooting with Hedi, he almost seemed annoyed when I was posed," he recalls. "He wanted non-posed, non-contrived, casual — the way you really are. It was actually sort of a challenge to be able to break down those preconceptions of what a fashion shoot is and just kind of look normal." Is Slimane a Boyhood fan? "It's hard to tell. He didn't really say much. He's no-nonsense with his words, so it's hard to tell. I would be interested to know."
After the 12-year commitment Linklater's film required, a daylong fashion shoot must feel like a breeze. "Absolutely," he says. "A film or a TV show is such a big life commitment I feel like I have to be careful, but with modeling I work for a couple of days, tops." Coltrane describes himself as "pretty green" when it comes to following the runway happenings. "I'm kind of figuring out who I like as I go. I like Prada a lot. I mean Prada and Gucci are nice." One development he's particularly into is the androgyny that has been increasingly evident in the last two seasons of men's fashion week. "I think defined gender roles are bullshit and I would like to wear a dress at some point," he says bluntly.
He says he hopes to continue his collaboration with Linklater, and is working on a couple of projects with the writer and director Kevin Ford. If there's one person whose career he'd like to emulate, it's Tilda Swinton. "She's really good at being a celebrity." She has also supplemented her acting career with modeling for brands like Chanel, Pringle of Scotland, and NARS. "I think the two careers can be tied together very nicely, and they complement each other. And that's what I hope to do. I'm not going to define myself as a model, but I'm not going to define myself as an actor either."
He hasn't relocated from Austin, where he has a quiet life away from the grinding machinery of both his chosen industries. And it sounds like his hometown friends aren't dazzled by the reflected star power. "Austin is a funny place. People don't really care too much," he says, laughing. "There's this sort of a vibe as a hippie, counterculture, non-commercial [place]. And early on, I felt a reticence or guilt about selling out. But what I'm realizing is that's just bullshit. You only sell out when you let yourself. That's why I'm inspired by Tilda. She's done everything, but she still has a soul. That's what matters. And that's why I'm staying at home."