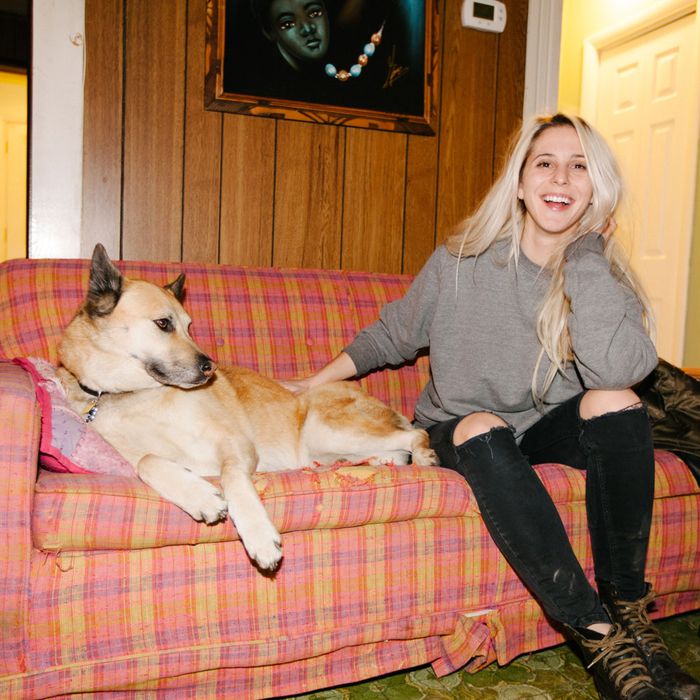 After listening to Nashville trio Bully's grunge-inflected debut album, Feels Like, it's nearly impossible to resist asking Alicia Bognanno — the band's bleach-blonde lead singer who deftly screams her self-penned lyrics about her feelings, her period, and her 20-something experience — whether she gets many comparisons to another bleach-blonde lead singer who deftly screams her self-penned, feelings-heavy lyrics (Courtney Love). Turns out, I'm not the first to ask.
"Ugh, I've heard it before." she groaned upon hearing about it. "We played a show in New York and the person selling merchandise said, 'This band sounds exactly like Hole,'" she recounted. "I was like, fair enough, but not fair enough because 'I Remember' does not sound like a Hole song!"

The single in question, the gut-puncher lead track "I Remember," might pack the same emotional wallop as some of Hole's songs, but all of the tracks on Bully's stellar debut are uniquely Bognannos's (she writes, records, and does the sound engineering for all of the band's music). Bully makes explosive, tightly produced rock music that fearlessly cuts to the heart of failed relationships, bad decisions, and the emotional vulnerabilities of being not just a woman but a living human being. Bognannos isn't afraid to scream her way (literally) through all of her feelings and most of yours too.

In honor of her album release last week, the Cut spoke to the Minnesota native about how she got her start, why it's offensive when music venues treat gender like a genre of music, and how she manages to preserve her voice night after night.
How did you start making your own music?
Growing up, I never really had the resources; I didn't grow up in a musical family, and I didn't really know kids who played in bands in high school. So, I loved singing and I would write little melodies or mess around with whatever I could, but it was when I first got to Middle Tennessee State University that I started, because that was just the first time I was around instruments and people who wanted to play together. Everyone was really welcoming.

I really want to ask you how you feel fronting a band that's all men, but I've also read interviews where you've said you're sick of the gender question. Why are you sick of it?
I just think the gender question is way easier to ask than to answer. It's not that I'm afraid to talk about it; I just think it's such a loaded question. Also, that's not the focus of this band. I always wonder how the rest of the band feels when people are asking me how it is to play with all men — like, what am I going to say, "they're a bunch of assholes"?

Does gender overshadow the music you guys put out?
When people put bills together not based on the style of music but based on the gender of the front person. Venues just want an all-female bill even if the music doesn't make sense. Gender becomes the genre. It really sucks, and it's not fun. And you can see right through it.

Your songs are so personal-feeling. They aren't specific, but so many of them are like an emotional sucker punch. Is it difficult to sing songs like that night after night? 
Yeah, it's not anymore, but after I first write it and the first couple shows of playing it, it can be tough … I'll kind of mumble through it, but only at first. After that, I have no problem singing the lyrics.

I was going to say, you definitely don't mumble most of your lyrics on "Trash." How did you learn to scream like that?
I mean, it just kind of happened, the more I started writing. It's my favorite part of the set because it feels so good. It's just really fun to just be able to scream about something you care about.