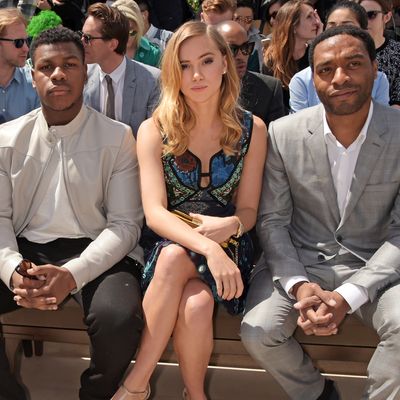 Photo: David M. Benett/Getty Images
London has been mostly gray-skied during this weekend's menswear shows — but it was hot as hell at Burberry today. As usual, Christopher Bailey's team erected an enormous tent in Kensington Gardens for the show, but this time the sun came out and it heated up like a greenhouse (which felt appropriate, because they were piping in birdsongs as we took our seats).
David Gandy, Mario Testino, Chiwetel Ejiofor, and Samuel L. Jackson were among the dapper front-row guests, presumably baking under their suits. Suki Waterhouse looked breezier in a dress from the fall 2015 collection. But no one could have been quite as warm as the 24-piece orchestra, who performed in tuxedos alongside the singer Rhodes, starting with a cover of Ultravox's "Vienna." And then out came the collection itself, which felt like a breath of fresh air.
The last few seasons at Burberry have been pointedly bohemian, revolving around colorful outerwear and artistic accessories. This time, with a collection entitled Strait-Laced, Bailey produced something decidedly more low-key — a series of variations on softer, more feminine shirts worn with muted tailored pieces. The first look was a navy trench over a white lace shirt, with a skinny mustard-yellow tie — much more sober and grown-up than some of the label's recent looks — and then there were sheer, delicate T-shirts paired with dark, slim-fit trenches.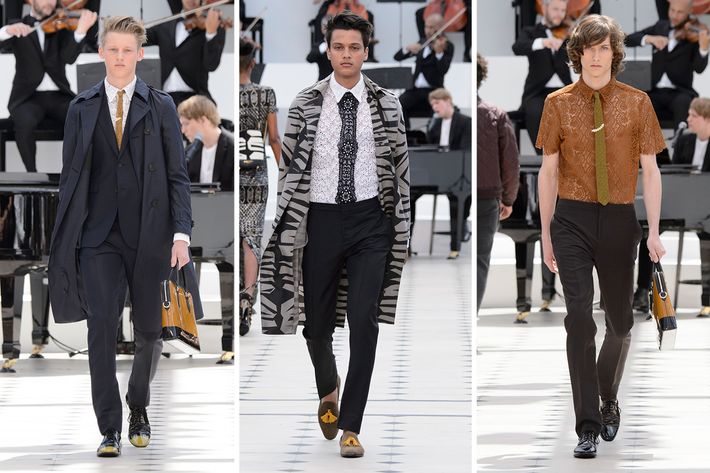 Lace was a running theme throughout the collection, always buttoned up neatly and counterbalanced with muted hues that stopped it from looking flamboyant — the palette included black, navy, charcoal, and brown, as well as the odd splash of turquoise or red. For the first time, the spring 2016 men's collection walked alongside the women's pre-spring collection — again predominantly done in lace — showing a continuity between the two that will probably also flow into September's London Fashion Week show. This seems to be how Bailey works, with themes that are picked up in the pre-collections and developed through menswear and into womenswear. This time around, it seems the Burberry man is putting down his paintbrush and going to the office — but he's no less stylish for it.