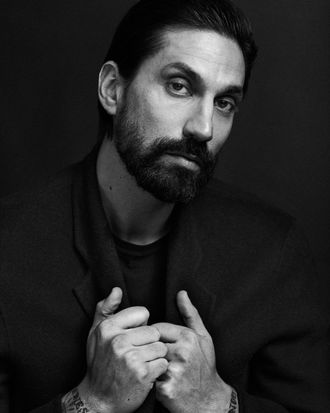 Ben Gorham.
Photo: Courtesy of Byredo
In 2008, Byredo launched with a perfume called Green — a simple, '70s-inspired fragrance that came in a beautiful, cleanly designed bottle. Almost seven years later, the brand has grown exponentially: Diptyque acquired a majority stake in 2013, and Byredo bottles have become as ubiquitous on Instagram as fancy coffee-table books. On the occasion of Byredo's second brick-and-mortar store — which opened in Soho last week — its founder, Ben Gorham, talked to the Cut about growing the brand into leather goods and ceramics, his future makeup line, and more.
Your brand has grown quickly. It was seen as a more niche brand and now, it's often seen on Instagram. Are you worried about exclusivity? 
I never saw Byredo as a niche brand even though what we were trying to do was very specific. In terms of people sharing their thoughts on fragrance in different ways, I'm all for it. [On exclusivity], not really, my main focus is being able to maintain the quality of our products as the brand grows.
Do you consider Byredo a luxury brand?
We don't talk so much about luxury because it's not about that. Luxury is more about a segment of the market that encompasses pricing, positioning, and advertising. We try to create products that are the highest quality possible. I guess that puts us in some idea of luxury. I think a lot of people perceive quality as a form of luxury, and in that case, it's very much that.
What was your first scent memory?
India. I went many times as a child, starting from a young age. My mother is Indian so we would visit family. It's really when I began to understand about smell and memory. I think my grandmother's house smelled very specific. It was kind of like a violet note, I don't know if it was lipstick or color cosmetics, and then there was that tray of spices from cooking, she cooked constantly. I remember smelling when you get off the plane — there weren't drawbridges, so you walked down the stairs. I remember opening the door and the smell being very clear. And then there was obviously the pollution. She lived in Mumbai, so the pollution was on the street. It was a very unique smell in that apartment.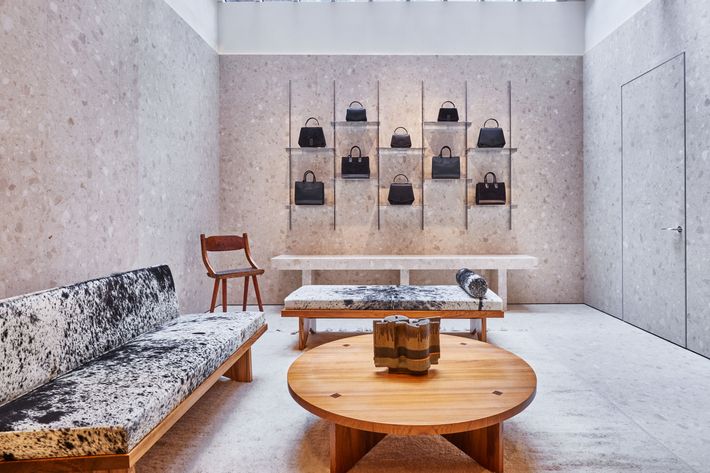 You're branching out into leather and ceramics. What do you see as the common denominator between them? 
For me it was very much about the process. I was able to apply our process to make a fragrance. The emotional aspect to it, to creating a physical object and then being able to really get into the details of craftsmanship. It's the same with the perfume. We started working on ceramics like a year and a half ago. It's amazing because it's super-challenging. It's kind of the luxury of what we do. We have all these projects running and a lot of them don't really have a defined commercial agenda yet. Jewelry or metal work is something that we worked on for a while. And we are working on two color references right now, two color cosmetics.
What are "color references"?
Two categories in the color cosmetics field.
And you'll be offering custom perfumes at the new store?
The front of the store is where you enter and can discover. Then there's this movement in-between to the back room, which is really important. I wanted to create a place where you could have a conversation, and take your time, whether it's with fragrance or leather. Later this fall, we're gearing up to launch a bespoke element business for leather, fragrance, and home furnishings. We have devised a new form of initials and monogramming with M/M Paris.
We've been doing custom perfumes kind of under the radar, and we haven't really talked to anyone about it. But a lot of people were requesting them, and a few of them were people we knew, so we decided to do it. We have a bit of a waiting list, about nine months, but it allows people to set up two or three kinds of appointments over a period of six months. It's not going to be a big part of what we do, but for some people it was important.
Why do brand extensions, like the ceramics and makeup?
Maybe ego? I don't know. I felt like to create a brand that is complex in and of itself, there shouldn't be any kind of framework or limitations. Our customers are really into understanding why we were making the things we were making. We felt like regardless of what we made, there would be an appreciation at least for the idea and the process. I don't think it was only perfume for me ever, to be honest. There was a moment where I was very into it, and I was only doing that, but the brand for me was always bigger.
This interview has been edited and condensed.