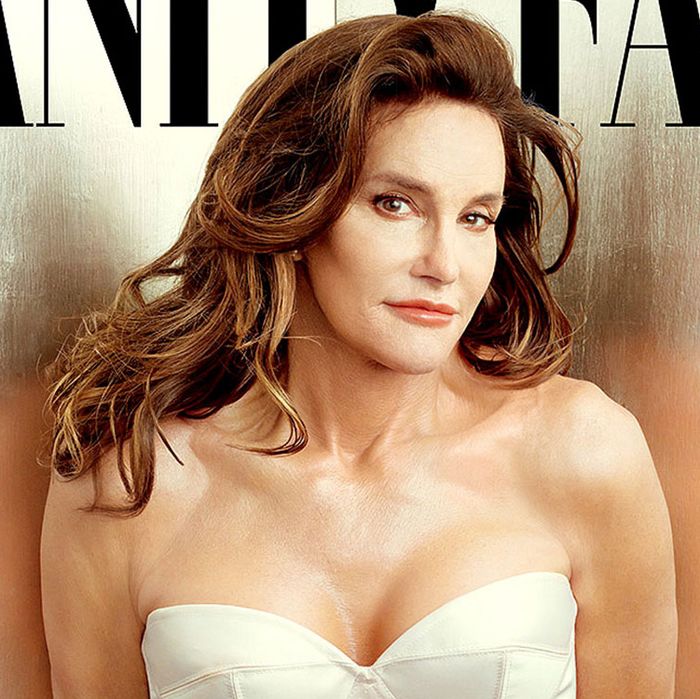 Photo: Annie Leibovitz for Vanity Fair
We shout our identities from the mountaintops these days. We own our truths and express ourselves and live our best lives at such a high volume that sometimes all of this aggressive holding forth can feel like noise pollution. But even against the inescapable din of own-horn-tooting, Caitlyn Jenner's emergence as a woman on the cover of Vanity Fair magazine feels singular. A once very male Olympic decathlete becomes a pinup before our eyes, brand-new breasts bursting out of her strapless lingerie. This is bigger than a very pregnant, very naked Demi Moore. This is bigger than Marilyn Monroe standing over a subway grate. This is even bigger than step-daughter Kim Kardashian's attempt to break the internet with her butt.
Jenner's groundbreaking and sensitively handled Diane Sawyer interview set the stage for this moment, but her Vanity Fair cover shot represents a next-level maneuver ­that's sure to be even more challenging for the American public. Can we handle this? Because this isn't just another publicity stunt. The stakes are higher than that — both for Jenner and for us. As she told Vanity Fair, "If I was lying on my deathbed and I had kept this secret and never ever did anything about it, I would be lying there saying, 'You just blew your entire life. You never dealt with yourself,' and I don't want that to happen." This is not Bruce Jenner speaking. This is Caitlyn Jenner, a woman who's barreling full-on toward the future.
Some will doubtlessly question Jenner's many revelations and confessions, and roll their eyes at what are sure to be more than a few surprises from her new docuseries. They'll titter over her new face (the result of ten-hour facial feminization surgery, according to Vanity Fair); her new breasts (which she allegedly flashed at her son Brandon, prompting him to say, "Whoa, I'm still your son"); and her new habit of throwing "girls' nights" (of which her daughter Cassandra says, "We talked more than we ever have. We could just be girls together"). But what Jenner really demonstrates with her Vanity Fair cover is that she's not taking half-measures in this new phase of her life. She's not going to be coy about who she is anymore. A mysterious, tongue-tied man is about to be permanently upstaged by an expressive, outspoken new woman. Caitlyn Jenner is not going to pad around in athletic shorts, backing away from the public gaze and second-guessing herself at every turn. Caitlyn Jenner is going to blow out her hair and wear teetering heels and form-fitting clothes. Bruce might've stuttered and giggled and sighed the deep, melancholy sigh of the conflicted, but Caitlyn Jenner is going to rock it out.
Unlike all of the careful steps that led her here, Jenner clearly won't be easing us into this anymore, either. And it's hard not to be impressed with that choice — and Graydon Carter's choice to show a trans woman as a truly glamorous pinup. America can't pretend that transgender women inhabit a quirky carnival sideshow anymore. Whether or not Jenner's docuseries impresses or falls short of the very idealistic, let's-change-the-world talk that Jenner is dishing up for us now, the truth is she is already changing the world. Showing us herself — even the shiniest, most glamorous version of herself — is a courageous move. This wasn't the only choice available to her. We've seen shiny celebrities on the covers of magazines before. We're used to being cynical about them. That might make it hard to see what's in front of us. But this is not a moment that can be waved off as silly or trivial. This is a revolutionary act.
Once the magazines are off the shelves, once the docuseries is off the air, once the fanfare dies down, Caitlyn Jenner might turn out to be just another ordinary woman. But that might be her biggest ambition of all.