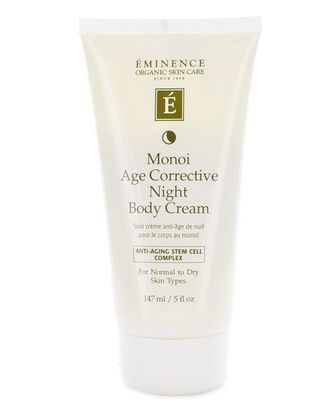 Eminence's Monoi Age Corrective Night Body Cream
Around the same time that I dove deep into evening workouts and consequently, nightly showers, I discovered Eminence's Monoi Age Corrective Night Body Cream. From the start, I had questions. What, exactly, is a night body cream? Does it know the time of day, and how does it differ from any other body cream?
This night cream is thick, but not as firm and heavy as a cream you would find in a jar. When I applied it all over my clean body, as indicated by the instructions, the cream blended smoothly into my skin and left a soft, nonsticky sheen behind. It has a slight fragrance, which smells like diluted monoi oil (somewhat nutty and floral), but the subtle scent is unoffensive, and wears off by the next morning.
I can't account for any "age corrective" properties, as indicated in the cream's name, but I immediately noticed an improvement in my skin's overall moisture. Trouble areas, like my elbows, knees, and even the bottoms of my feet, were soft, smooth, and totally hydrated. Looking under the hood of this night cream, it's easy to understand why. In addition to monoi oil (which is essentially a rarer form of coconut oil), argan oil, shea butter, and hyaluronic acid round out some of the most moisturizing ingredients on earth. Usually when I moisturize, dry, ashy patches tend to creep around my skin by the time I'm due for my next daily shower. With Eminence's night cream, my skin stays moisturized longer; I haven't even thought about ashiness in weeks. Of course, I don't always follow the nightly treatment instructions. Sometimes, I shower in the morning and apply the cream right afterward, and still my skin feels the same. It's a glorious moisturizer, but, in the end, that's all that it is. It can't tell time, but it definitively gives my dry skin a lengthy timeout.
Monoi Night Body Cream, $38 at Dermstore.