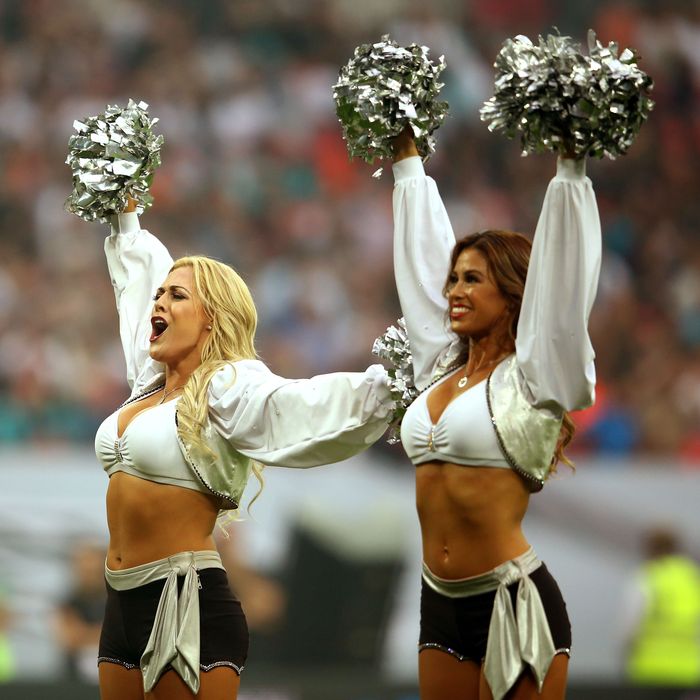 Photo: Richard Heathcote/Getty Images
If recent wage-theft lawsuits are any indication, some NFL cheerleaders are woefully underpaid, earning as little as $90 per game and zero dollars for mandatory practices. It seems teams skirted labor laws by treating cheerleaders as independent contractors, not employees. The Oakland Raiders and Tampa Bay Buccaneers settled their cases and agreed to pay their cheerleaders minimum wage starting last season, but a California bill introduced by Assemblywoman (and former Stanford cheerleader) Lorena Gonzalez seeks to have cheerleaders for California sports teams legally recognized as team employees, and thereby entitled to earn at least minimum wage plus overtime and sick leave. The state Senate passed the bill on Monday 26-8 and it's now with Governor Jerry Brown for approval.
Similar legislation in New York State proposed by Assemblywoman Nily Rozic would also apply to dance squads for sports like basketball. New York is home to the Buffalo Bills, which disbanded its cheerleading team last year in the wake of a lawsuit claiming low pay and mistreatment (specifically, sexual harassment and overreaching team guidelines). As long as cheerleading remains an NFL institution, we can all stand behind efforts to treat these women, athletes, and employees fairly.