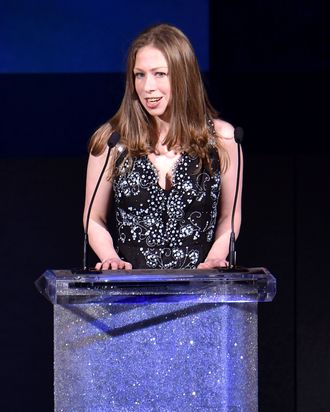 Chelsea Clinton.
Photo: Getty Images
Just two years ago, Hillary Clinton attended the CFDA Awards to present the Founder's Award to her dear friend Oscar de la Renta. At tonight's CFDAs, it was Chelsea Clinton who appeared onstage, now to pay tribute to the late designer's legacy. She recalled a time when the designer encouraged her to be more outgoing as a teenager — and the last conversation they ever had, shortly after the birth of her daughter. Read Clinton's complete remarks below.
I'd like to say a few words about our friend Oscar de la Renta. Although I first knew Oscar as a fashion designer and a creative force, I knew him mainly as my friend, and as the man I would have chosen for my grandfather had God granted me such a gift. The first conversation I remember having with Oscar, I was 17 or 18, he pulled aside one evening and he said, "Chelsea. I think I know you well enough now to ask you the following question: Why do you always look like you're trying to blend into the background? And I said, Well, Oscar, because I am. And he looked at me rather sternly, but with a twinkle in his eye, and said, I think you're doing yourself a great disservice. But if you insist on wearing dark colors and standing against the wall, you should at least be dressed beautifully. The very next week, Oscar sent me a beautiful patterned brown velvet dress. I wore that dress as often as I could get away with, and I smiled a little more brightly — and, I'd like to think, I stepped a little farther away from the wall.

I still have that dress. And I will treasure it always. I will treasure even more the pink dress that Oscar knitted for my daughter, Charlotte. The last conversation I ever had with Oscar was when my husband, Mark, and I called to thank him for Charlotte's gift, to see how he was doing, to see how he was feeling, to tell him that we were thinking about him, that we loved him. And of course all Oscar wanted to do was to talk about Charlotte — to see how she was doing, who did she look like, was she healthy, how was I feeling so soon after having given birth.

So why do I tell these two stories of two dresses, separated by more than 15 years? Well, because to me they encapsulate just a small part of what made Oscar so very, very special. He had a remarkable combination of kind honesty and honest kindness. He believed that in the right light, and yes, the right dress, anyone — even a shy, awkward girl, could shine a little more brightly. He was always relentlessly focused on the future: whether a new season, or a new child, and yet he never forgot who his family and his friends and his colleagues were, with whom he had already created his legacy.

But most of all, Oscar had a generous spirit, a generous mind, and a truly limitless heart. The dress that Oscar made for Charlotte was among the last — if not the very last thing — he ever made. I will make sure that she knows that she is one very lucky little girl to have been given such a gift. I will also make sure that she knows that she's even luckier to live in a world that could create someone who was such a creator as Oscar de la Renta. And that we are better for the life that he lived and all the love that he gave away. I miss him every single day. Thank you all very much.