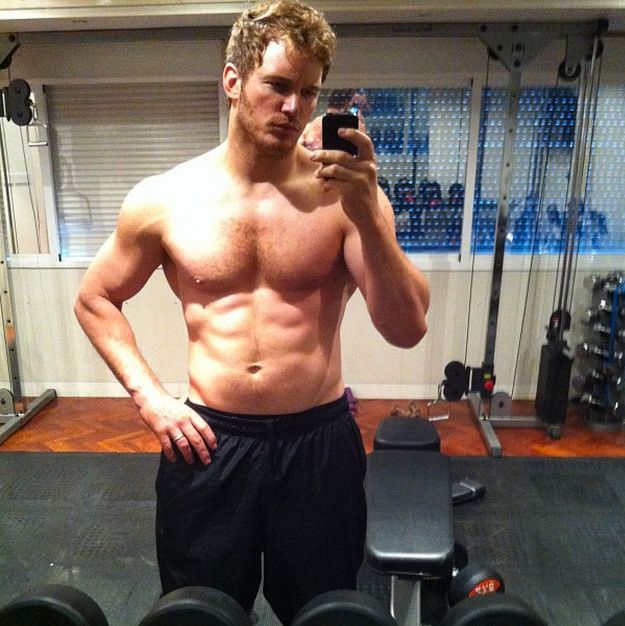 Photo: prattprattpratt/Instagram
Now that he's shed his dadbod and fully emerged as a hotbod, Chris Pratt is totally fine with being openly objectified by the horny populous, he tells Yahoo! UK. Have at, he says. Here I am. Here are my abs. Ogle me. Not only is he fine with being the recipient of our gaze, he also admits that his new sexy body has helped him get better jobs.
That all sounds fine and good, right? He's putting all that bod out there for us while also commenting on Hollywood's body standards. Except Chris Pratt must be deliriously tired from his Jurassic World press bender, because this proclamation of equal opportunity is a little odd, no? Let's have a look:
Pratt: "I think it's appalling that for a long time only women were objectified, but I think if we really want to advocate for equality, it's important to even things out."
Yes! We agree! Let's ogle some abs n' wangs in the name of equality!
Pratt: "Not objectify women less, but objectify men just as often as we objectify women.
Well, women have been objectified in so many ways, for so many more years, Pratt. A summer or two of getting to openly comment on Justin Theorux's package isn't exactly tit for tat, you know?
Pratt: "There are a lot of women who got careers out of it, and I'm using it to my advantage. And at the end of the day, our bodies are objects."
Dude. What??
Get some sleep, Chris Pratt, while your publicist gently issues a statement of clarification before you accidentally become the new face of the meninist movement.