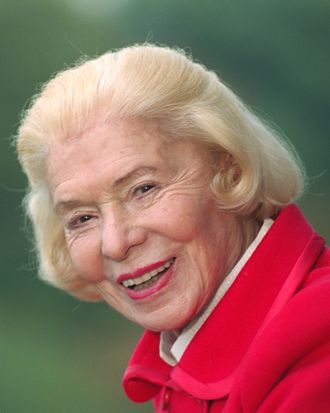 Madame Carven.
Photo: Maher Attar/Corbis
Madame Carven, the founder of the namesake French fashion house, died today at age 105, Women's Wear Daily reports. The designer, née Carmen de Tommaso, first got into the world of couture for a very practical reason: her height. She wanted to make clothes for herself and other women her size (she was five one). She officially founded Carven in 1945, and her designs were worn by Edith Piaf, Martine Carol, and Leslie Caron, among other stars of the era. During a time when it was rare for a woman to head up a couture house, she was one of the most prominent female figures in Paris fashion, along with Coco Chanel and Elsa Schiaparelli.
Carven also helped anticipate today's jet-setting, globe-trotting fashion extravaganzas, mounting fashion shows across five continents, and using her travels as inspirations for her designs. And in another forward-looking move, she even patented the push-up bra. The house she founded re-branded in 2008 with the hiring of Guillaume Henry, who has since departed for Nina Ricci, and is being replaced by Alexis Martial and Adrien Caillaudaud. They have quite a legacy to live up to.