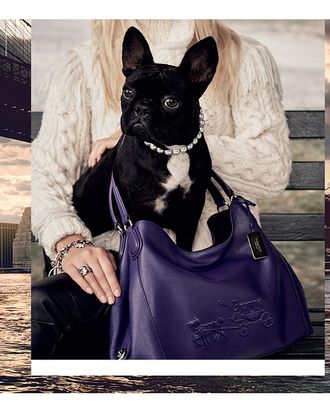 Who better to be the face of Coach than a pair of pups who could easily ride inside their handbags? Earlier this month, Ariana Grande revealed that her Chihuahua mix, Toulouse, would be graduating from Instagram to ads as part of Coach's latest campaign. And yesterday, Lady Gaga announced on Twitter that her Frenchie, Asia Kinney, would also be seen modeling for the leather-goods line. We caught Stuart Vevers, creative director for the brand, at the fifth annual Coach Summer Party on the High Line, co-thrown by Coach and Friends of the High Line, and grilled him on where he got the idea to have famous pooches model purses. "I was inspired by a campaign from the Coach archive, which had the dog from the Frasier* TV series," he said. "It was also a real standout, charming campaign, so we thought, What could be a take on that for today? Actually my first campaign for Coach, with Steven Meisel, incorporated one of the models holding a pup, so it was kind of a natural progression."
 


But more important, we wanted to know what it was like to work with the canine models. Were the divas' dogs divas themselves? "It wasn't easy," Vevers said, laughing. "I think there was a lot of patience from Steven [Meisel, who shot the campaign]. It was definitely one of the most surreal shoots I've ever been on." But, while the talent performed admirably, they didn't leave with any puppy swag bags — yet. "We thought it would make sense to create some [collars] going forward," Vevers noted. "And the first of the production line will definitely go to our new friends."

*This post has been corrected to show that it was the dog from Frasier, not Seinfeld, who appeared in a '90s Coach campaign.