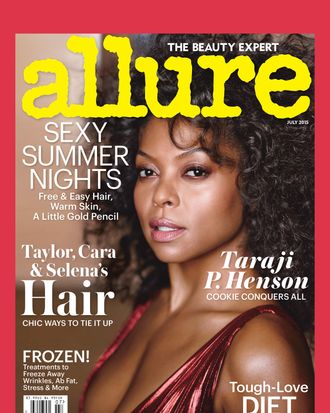 Taraji P. Henson on the cover of July's Allure.
Photo: Carter Smith/Courtesy of Allure
If Taraji P. Henson had a theme song, it would be Rihanna's Bitch Better Have My Money. In the July issue of Allure, Henson ends any speculation about an office romance with co-star Terrence Howard by explaining her "no knucklehead dude" policy. Of dating within the industry, she says: "You have to stay professional. It is a business. I'm not letting no knucklehead dude come between my hard work and my money."
Henson then goes on to pose in two glittering gowns, rose-gold eye shadow, and Diana Ross–inspired hair, while casually confessing that she was also her high school's homecoming queen and beat Beyoncé for the 2015 NAACP Entertainer of the Year Award award. It's her world, and we're just lucky to live in it.