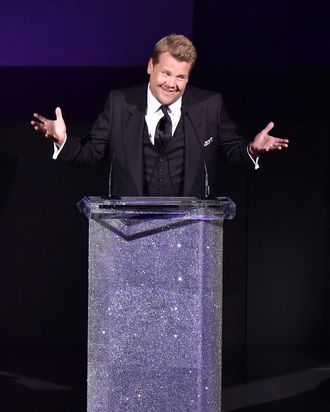 James Corden.
Photo: Michael Loccisano/Getty Images
James Corden took no prisoners in his CFDA Awards opening monologue tonight, touching on some of the fashion world's favorite targets. Read his full speech below and decide whether he is funnier than last year's host, John Waters.
Now, I know what a lot of you are thinking. You're thinking, How many people must have said no for us to end up with this guy? Me hosting a fashion awards [show] is ridiculous. Me being here has disaster written all over it. Asking me to host the CFDAs is like asking Terry Richardson to host your daughter's birthday party. But honestly, if I stand here and I look out at this room, I couldn't be more proud to be here. You are the tastemakers, you are the trendsetters, you are the chosen ones. I would like to congratulate all of the nominees. I want you to know that you are all winners. In about two hours' time, the majority of you will be losers. So I think it's important you enjoy this moment, right now.

Ladies and gentlemen, what a diverse crowd we have tonight. White gay men from all different areas of Manhattan have traveled to be here tonight to celebrate the best and the brightest fashion designers of the past 12 months. Tonight, we will find out who is the Menswear Designer of the Year, the Womenswear Designer of the Year, and the Accessories Designer of the Year. In addition to these awards, we will also have the Swarovski Award for Womenswear, the Swarovski Award for Menswear, and yes, the Swarovski Award for Accessory Design. Tonight is basically Groundhog Day, with the addition of the word Swarovski. I'd like to contractually thank our sponsors, Swarovski, tonight. Just in case you didn't know, they very much want you to know that they're involved in the awards this evening.
 was an incredible year for fashion. Rihanna was the face of Dior's fall campaign. I know, Rihanna in clothes, who'd have thought? Kendall Jenner became the new face of Calvin Klein, and Ringo Starr became the new face of Skechers. 2015 saw the firing of Michael Jeffries of Abercrombie and Fitch. Abercrombie & Fitch's [CEO] Michael Jeffries once said, "Of course my brand excludes people. It's for cool people." Now, as I stand in a room in front of the coolest people on the planet, I can see not one person wearing Abercrombie & Fitch. Which I guess makes him supercool, and we're all nerds. Mike Jeffries is here tonight; he's winning the Swarovski Prick of the Year Award.

Kanye West and Kim Kardashian West are here tonight. We would like to congratulate you on your news today. There you are. Look at you, you beautiful bastards. Did you all know this? They're having another baby. Amazing news. Kris Jenner said she can't wait to meet her newest cast member, I mean grandchild. Your daughter North West famously threw a tantrum while [she] sat side-stage at a runway show this year. Kanye was not happy. He told her after the show that the West family only throws tantrums onstage. Kim and Kanye are both presenting this evening. I should warn you that Kanye is going to interrupt both speeches to say that Beyoncé should have won both of them.

Pharrell Williams is here tonight, ladies and gentlemen. Pharrell has been named the Fashion Icon of 2015 and rightly so. I mean, Pharrell, dude, you can literally wear anything and make it cool. Pharrell has basically spent the last year looking like Abraham Lincoln joined Run-DMC and still looked amazing. You're just cool. You're the absolute coolest. You make everyone around you cool. You even did what we thought was impossible — you made Robin Thicke cool for a summer. And I don't think any of us realize how you did that. I mean, Marvin Gaye helped, but still, that is impressive. Robin Thicke is here tonight — I'm joking. Thank you for being here, let's get this show on the road. Thank you for everything you are doing. The truth is, without fashion, we would all be naked, and if you're standing next to either me or Harvey Weinstein later, you're going to be thankful that that isn't the case. Please welcome to the stage a designer who has set the standard in this industry for decades. It's like I always say, if you're not Furstenberg, you're last-enberg. Please welcome the President of the Council of Fashion Designers of America, Diane von Furstenberg.