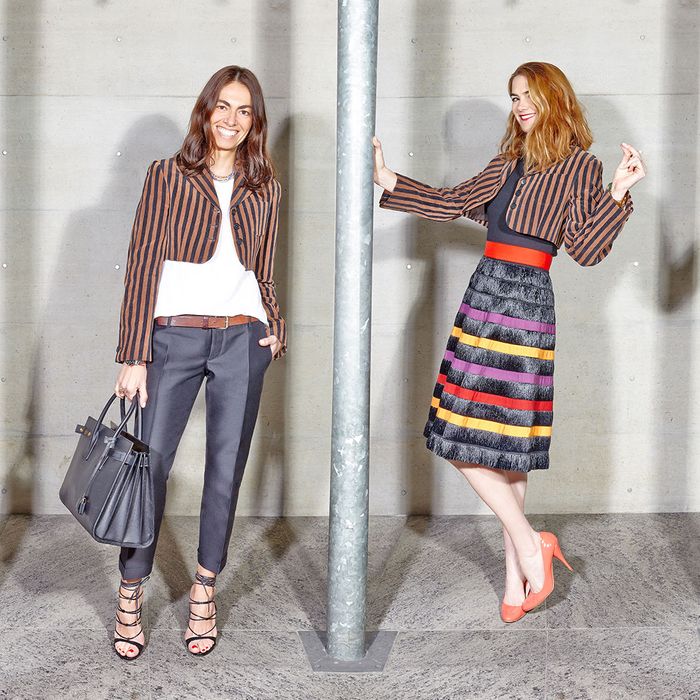 Photo: Courtesy of La Double J
Earlier this year, we called La Double J — the e-commerce site created by J.J. Martin — our favorite vintage shopping site on the web. Part of its appeal had to do with Martin's ability to scout one-of-a-kind vintage pieces and put them on Milanese women in their perfectly appointed homes, and part of it was the thrill of seeing vintage clothes mixed together with current-season pieces. La Double J makes 50-year-old items look like what you need to wear now. 
The site's new recurring feature, Vintage Wars, elaborates on that theme: What happens when you give a single vintage piece to two stylish women and ask them to wear it however they want? Every week, we'll bring you a new installment: one piece, styled (and modeled) by Martin and her impossibly chic friend, Viviana Volpicella. This week, a striped cropped jacket by Romeo Gigli.

Viviana Volpicella: This is what I'd wear to an important work meeting.
J.J. Martin: You're joking, right?
V.V.: No. I actually imagine myself having a meeting with LVMH, with [CEO Bernard] Arnault himself, wearing this outfit: classic Dsquared pants, a silk shirt by Equipment, and a work bag by Saint Laurent. It's very city girl.
J.J.M.: I think a cropped jacket needs to be worn over a dress or with a high-waisted pant or skirt to look normal.
V.V.: Ordinarily, you'd be right but here it works. Also I hate high-waisted pants. If you have hips, you need to work low-waisted pants so that you don't emphasize them.
J.J.M.: I can't even think in pants. They totally confuse me. This jacket feels so playful — I wanted to put it with my favorite raffia and ribbon-striped vintage skirt.
V.V.: Yep, and I gave you the red ribbon to wear around your waist.
J.J.M.: Which was an excellent move, Viv. Thanks, BABE. The Prada heels, meanwhile, I've had for a billion years and they're still in production. They go with everything, trust me.


Romeo Gigli Velvet Jacket, 1970s; $505.