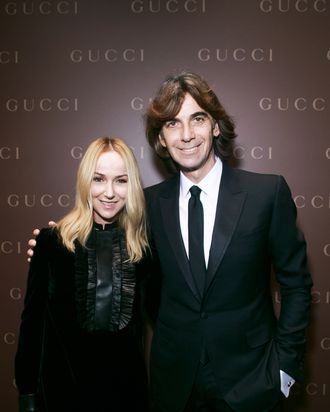 Frida Giannini and Patrizio diMarco.
Photo: Victor Boyko/Getty Images
Congratulations are due for Frida Giannini and Patrizio diMarco — the former Gucci creative director and CEO are tying the knot. Sources told WWD they are set to marry this Friday, June 5, possibly in the Italian resort town of Sabaudia. The two have been together for six years and have a daughter. Giannini left the company in January, in advance of her stated exit date, while diMarco made a memorable exit that reportedly included the phrase, "Against my will, I leave my cathedral uncompleted." Whether the couple's shared love of all things '70s makes it into the ceremony remains to be seen.