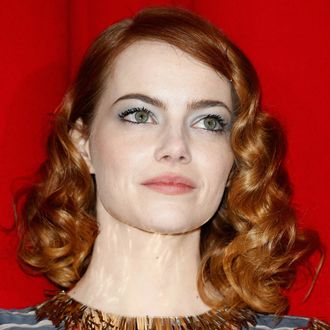 Photo: Andreas Rentz/Getty Images
Emma Stone gives off the kind of cool-girl confidence that makes it seem like she's never spent a minute of her life worrying about anything. This, as it turns out, is pretty much the opposite of the truth. Before Easy A, before the Woody Allen movies, before Andrew Garfield, Stone was a kid in Scottsdale, Arizona, who had terrible acne, was pretty great at spelling, and suffered some really terrible panic attacks, according to a recent profile of the 26-year-old actress in The Wall Street Journal. 
Stone told reporter Josh Eells about her childhood anxiety: "The first time I had a panic attack I was sitting in my friend's house, and I thought the house was burning down. I called my mom and she brought me home, and for the next three years it just would not stop." Most days at school, she'd go to the nurse and spend her lunch hour wringing her hands, and the panicky feelings didn't subside when she was with her family. "I would ask my mom to tell me exactly how the day was going to be, then ask again 30 seconds later," Stone told Eells. "I just needed to know that no one was going to die and nothing was going to change."
Therapy helped a bit, but it was the in-the-moment pleasures of acting that really helped manage her anxiety, she said. "There's something about the immediacy of acting," she told the WSJ. "You can't afford to think about a million other things. You have to think about the task at hand. Acting forces me to sort of be like a Zen master: What is happening right in this moment?" For the rest of us, for whom getting up onstage in front of hundreds of eyeballs would do nothing at all to soothe jittery nerves, maybe the pickle cure is the way to go.