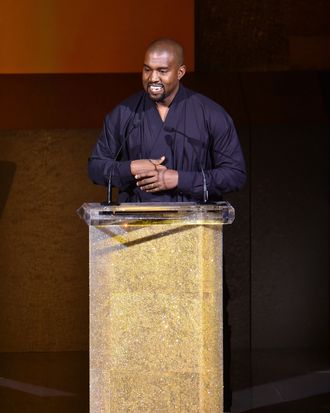 Photo: Michael Loccisano/Getty Images
Kanye West was 100 percent aware that the audience at the CFDA Awards was bracing itself for another one of his patented … er, disquisitions. (He acknowledged that "the length of [his] previous speeches" was daunting.) The robe-clad rapper was ostensibly there to introduce his self-confessed "style idol," Pharrell Williams. But like all Kanye speeches, it was equal parts poignant, hard to follow, and potentially beef-generating. (A$AP Rocky, care to weigh in on this?) Read the full speech below.
What's up, CFDA? You know how Obama brought out the angry version of himself? I'm sort of like the angrier version of Pharrell. [Begins rapping the first verse of "New Slaves."] That rap wasn't written from a good place. That rap was written from an extremely frustrated place. There's a gross misconception about the idea of a celebrity creative — my mom's gonna be mad if this is the wrong way to word it, she's an English professor — that somehow, especially in this room, takes away the idea that there's any ideas. Adidas gave us both an opportunity because they gave us celebrity deals. But the opportunity to create just a little bit more, just to think a little bit more. It is very difficult to break perception.

Fashion has to be the hardest high-school that I ever entered. But at least I had a big brother — a junior, a senior that was there when I was a freshman, that had already worn the tight jeans and went to the fashion shows and had been called too hip-hop to be at the fashion show, and then got called too fashion to be in the hip-hop video. And when we got early cyberbullied, he'd be there, right there, in Paris, to talk me through and keep me going. And have me not give up after my first collection that sold out, $6,000 shoes, was completely destroyed by the fashion [Establishment]. I totally respect Fern [Mallis]'s voice. Have a voice. Express yourself. That's what our agenda is, expression. Something worth fighting for, no matter what someone might say. Someone who tells you, because you're the No. 1 athlete in the world, you can't express yourself. Pharrell has always been my style idol, and there would be no me, no A$AP, without Pharrell being the nicer version of Obama. So, I know you got scared after the length of my previous speeches that this would go equally as long, so without further ado, to my style idol, and tonight's recipient of the Fashion Icon Award, Pharrell Williams.