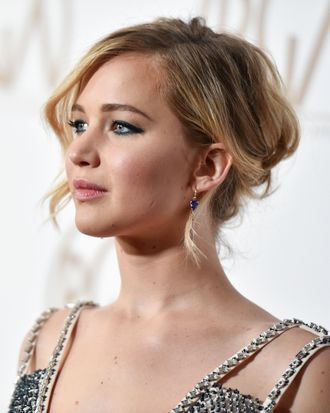 Jennifer Lawrence, a victim of last summer's nude photo leak.
Photo: Kevin Winter/Getty Images
The FBI is still working to identify the culprit behind last summer's "Fappening," in which illegally obtained naked photos of dozens of female celebrities were leaked on 4chan. According to a recently unsealed federal search warrant obtained by Gawker, feds have narrowed their search in on at least one man in Chicago. The related affidavit reveals that last October, federal agents seized multiple computers from the home of Emilio Herrera — which they determined had been used to "access or attempted to access without authorization multiple celebrities' email and iCloud accounts over the course of several months."
The affidavit alleges that, in the year prior to the photo leak last August, Herrera's IP address "was used to access approximately 572 unique iCloud accounts," noting that "the majority of the other accounts accessed from [Herrera's home] were accounts of celebrities, models, or their friends and families." Additionally, Herrera's IP address was used for 4,980 attempted reset attempts for 1,987 different passwords. As photo-leak victim "A.S." recalled getting locked out of her online accounts around April and May of 2014, it seems likely that the large-scale hacking was done through phishing emails and password resets.
The document also lists the victims of the photo leak by their initials: "A.S., C.H., H.S., J.M., O.W., E.B., and A.H." — which Gawker's Sam Biddle speculates refer to Abigail Spencer, Christina Hendricks, Hope Solo, Jennette McCurdy, Olivia Wilde, Anna Kendrick, Emily Browning, and Amber Heard. Another affidavit obtained by the Chicago Sun-Times reportedly includes mention of "J.L." — presumably Jennifer Lawrence, the highest-profile victim of the cyberattack.
Despite this evidence, no charges have yet been filed in the case.