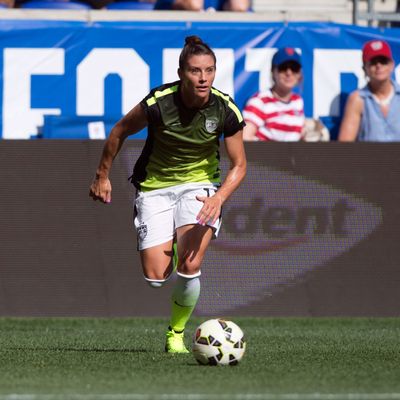 Ali Krieger.
Photo: Brad Smith/Courtesy of Nike
Ali Krieger knows a thing or two about strength, physical and otherwise. Three days before being named to her second World Cup team in April, she suffered a concussion during a match and was unconscious for more than a minute. But she stayed calm: "Once I felt I could move my legs and my arms, I was like, 'Okay, this is good,' after the accident. 'Hopefully, it will only take a few weeks and then I'll be back at it.'" After all, the 30-year-old defender for the U.S. women's national soccer team has been in trying situations before: In 2006, for example, blood clots in her lungs caused a pulmonary embolism and several mini heart attacks that had her out of the game for six months, and in 2012, she suffered a season-ending injury in the Olympic qualifying tournament (she tore her ACL, MCL, and meniscus). She's had to fight her way back to the field again and again during her career, so it's no coincidence that her workout on the Nike+ Training Club app is designed to build serious strength. (Note: Krieger is sponsored by Nike.) She spoke to the Cut about surfing, fried eggs, and flexibility.
Watch team United States play Australia in the opening round of the FIFA Women's World Cup on Monday, June 8, at 7:30 p.m. on Fox Sports. 

How I start my mornings: I like to just chill, have my coffee, and then I'll eat breakfast after that. I love to watch my morning shows like Live With Kelly and Michael and Wendy Williams. I get my fill on gossip stuff. Or I'll get up early to watch the EPL, which is the English Premier League. [The season is] done now, but that's exciting for Saturday and Sunday mornings. I think it's important for my sport and my position to watch a lot of soccer and I try to do that as much as possible just to stay in the loop and also learn from those players.
I always have three fried eggs in the morning, and sometimes I'll do yogurt. I try and stay away from dairy, but if it's a game day it's a little bit different, so I eat more protein and more carbs than I would on any other day, or I'll just have a smoothie. My favorite is kale, spinach, mangoes, pineapple, cucumbers, and blueberries with a little bit of peanut butter.
My food philosophy is: In order for me to perform the best I can out on the field I have to fuel my body with the proper nutrients to be able to do all the running. I'm running four or five miles every game, so it's a lot. Even at halftime I take electrolytes and have half a peanut-butter-and-jelly or whatever is sitting there just to keep my engine running.
I usually play on an empty stomach, so I'll eat like three or three-and-a-half hours before a game because I feel better when I'm running. That's just me.
I'm not like a health freak — I can treat myself to cupcakes or doughnuts or those things because I feel like I'll go on a binge of chocolates and sweets if I don't allow myself that. But for tournaments like this and big games, a week before I really try to pay attention to what I fuel my body with in order to perform my best on the field.
How much I work out: Almost every day is twice a day whether that be in the gym then a full team session, or a later individual session and then a team training session. That's probably three times a week. Twice a week we'll have maybe one session but then there are some days where we have three. So in the morning you'll have gym and field, individual, and then at night you'll have team training. That's maybe once a week, sometimes twice a week, but it's very rare.
And then obviously a game on Saturday or Sunday, and the following day is recovery so the pool, or yoga or whatever you need to do, go on a light jog or something like that. A lot of stretching. The next day after that is usually off just to recharge and refocus. And then we'll start it all over.
My biggest wellness struggle is: I still feel young, but I'm getting older and I have to do extra recovery stuff, even after games, even before training. Before and after I have to really do my stretching exercises. I try and do yoga, I try to swim three times a week for flexibility, and doing the ice baths and doing the massages and really taking care of my body and watching what I eat and everything like that.
How wellness has changed for me: I think doing my rehab after I tore my ACL and making that my new job, it was like a nine-to-five job of going to the rehab facility and doing two sessions of hands-on knee work and massage and then in between I would go to the gym at the facility and work with my trainer on stability stuff and agility stuff and core stuff — everything that I could do to help get myself back out on the field, and running normally. Now I feel better than before I tore my ACL actually, so I should have been doing that when I was younger, but I guess you don't realize that before it happens.
My wellness hack is: I drink coffee 30 minutes before I want to nap. I think that really helps. When I wake up I'm ready to go to our second session and I'm on fire! I also put on my noise-canceling headphones [for naps] … we're with roommates a lot so you don't really have a lot of quiet time. Some people are, like, watching a movie and we have to compromise and figure it out.
My wellness advice is: Everyone is an athlete. You want to go hiking, you want to go biking, you want to go jogging or for a walk? You're automatically an athlete. I think people just have to have the motivation to want to do those things, and you've got to do what's best for you. You don't necessarily look at other people and see what they're doing. Do something that you're actually passionate about, that you actually enjoy doing. Whether that's going to SoulCycle or doing yoga or Pilates or playing tennis, I don't know. Just find things you think are fun, and then you'll be more inclined to want to go work out.
How I'd like to stay active: I've been surfing once or twice … and I like longboarding. I just haven't been able to do those types of things because you have to be careful with our job — you can't really go out and be kind of reckless with things, unfortunately. But I am getting better at [surfing], so hopefully one day I'll live near the water and I can enjoy it a little bit more.
This interview has been condensed and edited.