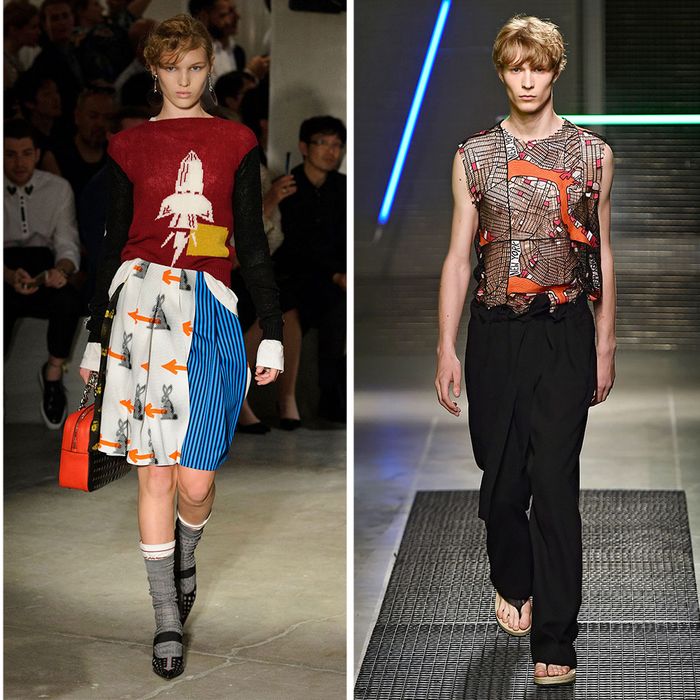 Photo: Imaxtree, Imaxtree, Getty Images
Menswear's genderless mood is still very much in effect for spring 2016. While we haven't seen anything as outlandish as some of the looks in London, like Christopher Shannon's neon bikini tops, Milan has been a fertile ground for gender experimentation. Miuccia Prada's cheeky reasoning for showing a group of women's resort looks alongside her men's collection this season? "Women beat men to zero," as she told Tim Blanks. However you interpret that statement, the designer was right in line with her peers, who have increasingly chosen to blur men's and women's wear, or to simply combine it.
At Gucci, Alessandro Michele one-upped his debut last season — the one featuring pieces, like pussy-bow blouses for men, that had all of Milan talking over their espressos — with flower-embroidered lace shirting and a crocheted sweater with a butterfly motif. While his envelope-pushing felt current, the clothes themselves were decidedly retro — a take on the Granny Takes a Trip aesthetic for a new generation of millennial nostalgia-seekers. MSGM, whose designer Massimo Giorgetti is now pulling double-duty with a post at the helm of Pucci, showed mesh pieces with delicate geometric embellishments. And while he hewed to traditional silhouettes, the Pepto-pink hue of Kean Etro's suits at Etro was very much in keeping with the season's tenor. Whether we'll be seeing any pop up on Wall Street is another question.
See the full Prada spring 2016 menswear collection here.